Featured @ The CHCC
Upcoming Exhibition : 25th Annual All Florida Juried Art Show

Selected works will be exhibited at the Court House Cultural Center from September 25 - November 14, 2015.
---
---
The Arts Council Inc has been a leader in the arts community for more than 30 years. By providing services to visual and performing artists, arts organizations, students and the public, the Arts Council strives to instill a passion for and participation in the arts.
SAVE THE DATE:
Returning to Saint Mary's Pittenger Center October 20, 2015
Details to follow... stay tuned!

Are you interested in volunteering to be on the mARTies committee? Call us to get the details!
---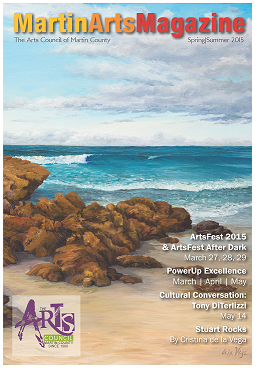 ---
News & Announcements
Posted on 08/19/2015

The Encore Society is a group of individuals who support the Arts Council of Martin County's mission to inspire participation in and a passion for the arts in our community!

Posted on 08/14/2015

Posted on 08/12/2015

Starting this Fall, a new and exciting program to combine the fine and performing arts in one space is coming to the Court House Cultural Center Gallery!
---
---

Here are some great tips to prepare your arts organization for #TropicalStormErika! #martinarts #stormprep

http://t.co/tu1nvHMokR

With all this buzz on #TropicalStormErika, we thought to share these incredible weather-inspired art installations!

http://t.co/uM1RokvkV8