ArtsFest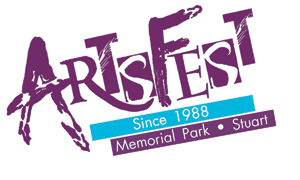 Mark your calendar for ArtsFest 2015!
Friday Night, March 27 - ArtsFest After Dark Paella Party. Details coming soon! 
10 am - 6 pm, Saturday, March 28
10 am - 5 pm, Sunday, March 29
Memorial Park and East Ocean Boulevard, Stuart, Florida
---
"Festivals promote diversity, they bring neighbors into dialogue, they increase creativity, they offer opportunities for civic pride, they improve our general psychological well-being. In short, they make cities better places to live." — David Binder
The window for artists to apply to ArtsFest has closed. Artists, please review your Zapplication account to see your status. Thank you for applying! We value your participation! 
---
The Arts Council of Martin County is pleased to announce that ArtsFest 2014 was a great success! New features and long traditions combined in a true Celebration of the Arts!

The event, held in Memorial Park & East Ocean Blvd in downtown Stuart on March 15 & 16, 2014 is the largest annual fundraiser for the Arts Council of Martin County. Each year brings together a wonderful team of volunteers, sponsors, staff and artists who work hard to provide the Treasure Coast with a full weekend of arts and entertainment. Co-chaired for the second straight year by Matt Hollister and Hank Gonzalez, ArtsFest 2014 embraced many art forms and pleased thousands of guests.


---
ArtsFest 2014 Photos!
---
ArtsFest Map