ArtsFest
ArtsFest 2014 - March 15 & 16, 2014
Saturday, March 15, 10 am - 7 pm
Sunday, March 16, 10 -5 pm
Look for new details as they emerge from our planning sessions! Returning for 2014 will be the successful Friday night kick off event, ArtsFest After Dark. We will also be celebrating the City of Stuart's Centennial throughout the weekend.
Artist Deadline on Zapplication.org was September 30, 2013 -- Jurying in Process
---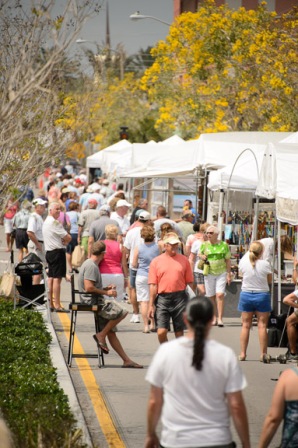 The Arts Council of Martin County is pleased to announce that ArtsFest 2013 was a great success! Despite blustery winds on Sunday, the event held March 23rd & 24th at Memorial Park in Downtown Stuart, was a true Celebration of the Arts!
Entertainment and Kids KreARTivity Korner!
The entertainment line-up at ArtsFest 2013 was fantastic and the performers were amazing, but the true star of the show was the KreARTivity Korner where kids of all ages transformed wood, noodles, plastic bottles and the like into a scene from Janeen Mason's Award Winning OCEAN COMMOTIONS books. All of the activities were FREE and all focused on creating art. "Our mission as an Arts Council is to inspire a passion for and participation in the Arts, walking through the KreARTivity Korner you could witness that happening first-hand," explains ArtsFest Co-chair, Matt Hollister.
ArtsFest's site changed as well with more artists, activities and entertainment being moved into Memorial Park. Our guests and artists enjoyed that change. Area residents and visitors caught their first glimpse of the R U ARTin in mARTin? campaign early in 2013 as the Arts Council spearheaded a collaborative effort to promote Martin County Area Arts Festivals throughout the season by positioning Martin County as a key cultural tourism destination.
ArtsFest 2013 also saw the first ArtsFest After Dark on Friday, March 22nd the night before the event with The Lounge Series held at the Courthouse Cultural Center. The vibe was groovin' as hip Stuartians shared their homegrown art with each other. The event also held a Commemorative Print Unveiling and Preview Party in early March celebrating Nancy Tilles' INFINITY piece which was ArtsFest 2013's commemorative print. The image was selected because of the Arts Council's support of the Speak Up for the St. Lucie Campaign.
---
Commemorative posters, t-shirts, magnets and prints are still available for sale. Come to the Court House Cultural Center, 80 E. Ocean Blvd., downtown Stuart, FL to purchase. Talented and veteran artist, Nancy Tilles, was named as ArtsFest 2013 Featured Poster Artist. The image depicts marine-life, a well-respected subject matter for Tilles. The artist has been commissioned numerous times throughout her career by Florida venues to create scenes depicting our marine life.