ArtsFest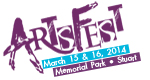 ArtsFest 2014 - March 15 & 16, 2014
Saturday, March 15, 10 am - 7 pm
Sunday, March 16, 10 -5 pm
Returning for 2014 will be the successful Friday night kick off event, ArtsFest After Dark. From 7-11 in the park at the Main Stage, ArtsFest After Dark is sure to inspire! Suggested donations of at least $1 accepted for ArtsFest After Dark entry!
NEW for 2014 - Sunday IRISH Brunch, VIP Sunday only passes will be sold for this new festival attraction. Enjoy the soundsof the Rowdy Micks, Irish Step Dancers and a Irish-themed brunch with beverages all day for only $40/person.
PATRONS become a part of the program with a $350 contribution - $250 will be given back to the PATRON to spend with ArtsFest artists during the weekend of the festival, only. And you get to be a VIP all weekend, taking full advantage of the special reserved seating, refreshments and Irish Brunch (Sunday only) in the VIP section.

View our catalog and make your purchases today! Be a part of the excitement that is ArtsFest 2014 --- celebrating 27 years!

Getting in to ArtsFest! There are 2 entrances to ArtsFest:
1) East Ocean Blvd & Florida west gate, near Courthouse)
2) East Ocean Blvd & Georgia (east gate, near Stuart Middle)

Adult Admission is $5 / person (students, free) in support of our efforts to inspire participation in and a passion for the arts in our community! Funds support program-related expenses.

Event Parking Free parking is available throughout downtown Stuart, in parking lots and on the street. The City of Stuart Shuttle is available all weekend. Handicapped parking will be off Georgia Avenue and will have access through the PARK GATE (SE corner of Memorial Park, by the Road to Victory Museum).
---
---
ArtsFest 2013 Photos!