mARTies Awards

"Every great dream begins with a dreamer. Always remember you have the strength, the patience, and the passion to reach for the stars to change the world." —Harriet Tubman
Two hundred guests gathered to celebrate the 8th mARTies Awards celebrating both professional and student achievement in the visual and performing arts on February 13 within the courtyard of St Mary's and Pittenger Center, Stuart. The Starry Night theme, with a nod to Van Gogh, was the back drop to a picture perfect evening presented by the Arts Council of Martin County.
With each mARTies celebration the Arts Council board selects some very remarkable named award recipients. These award winners have demonstrated their leadership, their passion and commitment to the arts.
• Lifetime Achievement in the Arts: Jane Davis Doggett
• Arts Leadership Award: Ron Hart
• Excellence in Arts Education: Bridget Glass.
• Philanthropy in the Arts: Frances Langford Foundation
The mARTies committee also entertains nominations from the community in several categories. Those nominees were honored and recipients were announced in each category:
• Volunteer in the Arts: Francine Beckstead
• Outstanding Visual Artist: Jane Blatt
• Outstanding Digital Media Artist: Mitch Kloorfain
• Outstanding Performing Artist: Terry Barber
With gratitude to a gift from Lesser, Lesser Landy & Smith and the State of the Arts License Plate program, the student awards were accompanied by $500 scholarships:
• Outstanding Student Digital Media Artist: Amanda Wind
• Outstanding Student Visual Artist: Christina Perez
• Outstanding Student Performing Artists: Spencer Ballantyne and Kevin Paul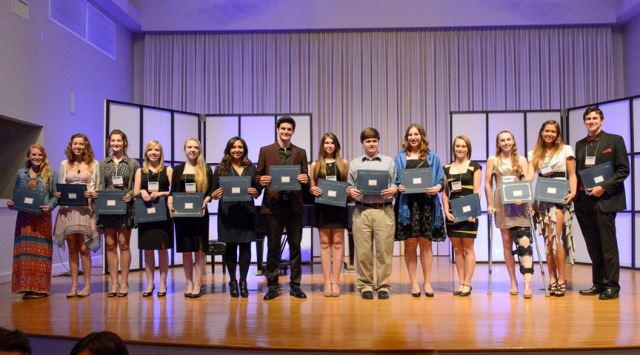 Student Nominees
mARTies 2014 attendees took home a goodie bag that included a small canvas ready to be inspired to create your own rendition of Lynne Barletta's "A Starry Night Over Stuart." See Lynne's instruction video's here...
---
---
mARTies Named Award Recipients
The Board of Directors selects several named award categories for the mARTies to complement the competitively nominated awards. The 2012 awardees were recognized at the mARTies Awards on May 3, 2012:
Lifetime Achievement in the Arts: The individual has shown a lifetime of commitment to the improvement of the quality of life in our community through dedication, leadership and inspiration. They may be a professional artist –visual or performing—or a lifetime advocate for the arts as an integral part of the fabric of our community.
2003: Charlotte Clayton
2004: Nancy O'Malley
2005: Phil Kavanaugh
2007: Janeen Mason
2009: Marie Jureit-Beamish
2010: Sandra Thurlow
2012: Rita Vallis
Excellence in Arts Education: Recognizes an individual for a career in arts education and for being an inspiration to his/her students to aspire to greatness in the arts.
2003: Ron Corbin
2004: Tom Wetzl
2005: Krystal Wion-Eckhard
2007: Karen Haines
2009: Joe Flanagan
2010: Tracy Canada
2012: Marcus Rabb
Philanthropy in the Arts: An individual or family who has through significant contributions contributed to and enhanced the cultural life of our community.
2003: Richard & Dana Kibbey
2004: Lawrence A. Sanders Foundation
2005: Women Supporting the Arts!
2007: OPUS Boosters
2009: Vianne Nichols
2010: Peter & Julie Cummings
2012: Barbara Trimble
Arts Leadership: An individual who has served as a consistent driving force to keep the arts alive in Martin County. This person is perceived to be constantly on the front line keeping the arts visible. A true passion for the arts is demonstrated in their every effort.
2003: Ernie and Helen Berlin
2004: Janet Hutchinson
2005: John Loesser
2007: Cecelia Serra
2009: Craig Price
2010: Ethel Christin
2012: Jeanette Mueller
2012: Robert E Valle
Corporate Leadership: A corporation with a commitment of funding, supporting and participating in the arts and cultural life of our community. Through their gifts, arts and cultural activities and events have been consistently enhanced.
2003: Dunn Capital Management
2004: Northern Trust
2005: Massey Yardley
2007: Palm Beach Post
2009: Scripps Treasure Coast
2010: UBS
2012: Publix Supermarket Charities
Special Recognition: Serves to recognize a special happening in the arts and cultural life of Martin County that is unique and deserving of special attention and thanks. This award may not be given every year.
2003: Edward and Suzan Sellian
2004: Mary Shaw
2007: HCG
2009: Martin County BOCC
2010: Margaret "Peggie" O'Neill
---
mARTies Past Award Recipients
Outstanding Digital Media Artist Presented to an individual with a proven record of artistic excellence in the media arts, (related to video, graphic design and film), outstanding civic responsibility, and whose leadership has improved the quality of life in our community through the arts. Recipients: Jeff Younglove, Steven Martine

Outstanding Visual Artist: Presented to an individual with a proven record of artistic excellence in the visual arts, outstanding civic responsibility, and whose leadership has improved the quality of life in our community through the arts. Recipients: Tom Prestopnik, Caesar Cirigliano, Margaret Gray, Brenda Leigh, Tom Winter, Ruthann Hewson, Cristina de la Vega

Outstanding Performing Artist: Presented to an individual with a proven record of artistic excellence in the performing arts, outstanding civic responsibility, and whose leadership has improved the quality of life in our community through the arts. Recipients: Christina Burr, Cynthia Kessler, Gayle Mingledorf, Peter Jones, Constantinos Jaferis, Douglas Jewett , Jennifer Jones

Outstanding Student Digital Media Artist: Presented to a student with a proven record of artistic excellence in the media arts (related to video, graphic design and film), outstanding civic responsibility, and whose leadership has improved the quality of life in our community through the arts. Recipients: Christopher Mennuto, Nicholas Lively, Jesse Forbes

Outstanding Student Visual Artist: Presented to a student with a proven record of artistic excellence in the visual arts, outstanding civic responsibility, and whose leadership has improved the quality of life in our community through the arts. Recipients: Tracy Cochran, Shara Brokaw, Alex Fogt, Ellen Krebs, Ashley Baldwin, Sarah Tranter , Ariana Martinez, Jordan Schulz

Outstanding Student Performing Artist: Presented to a student with a proven record of artistic excellence in the performing arts, outstanding civic responsibility, and whose leadership has improved the quality of life in our community through the arts. Recipients: Angelica Melillio, Michael Wood, Kendra Eaton, Megan Moran, Ryan Weiss, Martha Sturm, Kevin James Connor, Cory Jeacoma

Outstanding Volunteer in the Arts: Honors an individual that participates in donating volunteer time, encouraging support for the organization and the arts in the community and is truly dedicated to the cause of the nonprofit that benefits from their attention. Recipients: Margaret "Peggy" Meissner, Connie Bass, Ginger Baldwin, Rita Jenkins-Gaines, Graham Monk, Pamela Waxler Fogt, Karen Vaina

(Note: The most recent recipient of the award is listed last)