Spotlight
Engage in the arts at ArtsFest
Buy tickets, sign up to volunteer... and plan to have a fun & creative time!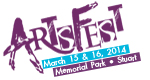 Event Title:
ArtsFest 2014
Location:
E Ocean Boulevard & Memorial Park
Description:
The Arts Council of Martin County is proud to announce the 26th Annual ArtsFest in Downtown Stuart on March 15 & 16, 2014. This two-day Celebration of the Arts features 120+ Juried Artists from around the country along with live entertainment, delicious food, a great kid's area and lots of family fun! The setting is beautiful and charming along E Ocean Blvd and Memorial Park. Stroll the festival and enjoy the beautiful art, listen to and watch great entertainment, enjoy savory food with family and friends….all in beautiful downtown Stuart!
Contact Information:
The Arts Council of Martin County
Browser not working right? Try it the "old-fashioned" way... print out this form then scan it and sent it to: artsfest@martinarts.org or fax it to: 772-288-5301. Or just send us a quick Email (please put VOLUNTEER) in the message line, to tell us when you can help. We'll take care of the forms when you arrive.
---
Buy your tickets, and more!
View our catalog and make your purchases today! Be a part of the excitement that is ArtsFest 2014 --- celebrating 27 years!