Overview
Respecting the Past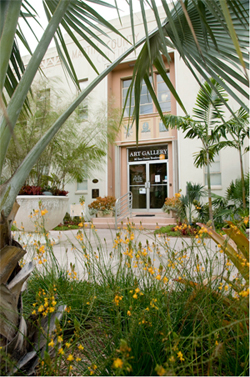 The long history of the Court House Cultural Center begins in 1908, as the first schoolhouse in Stuart, built on land originally donated by Mr. R.R. Frazier. When a new schoolhouse was completed in 1923, the old building became the Martin County Courthouse.
In 1936, the County applied to the Works Progress Administration for aid. The approved project addition, designed by architect L. Phillip Clarke, is a rare example of post-depression Art Deco. The addition features symbols and inscriptions attesting to the vigorous and idealistic era of Roosevelt's W.P.A., as are the cast friezes and cornices adhered to the top of the building.
Scheduled to be demolished in 1989, it was saved by concerned citizens, who lobbied for grant money from the Florida State Department of Historic Preservation and matched by funds from the City of Stuart.
The restoration saved the original awning windows, judge's vault, marble staircase and terrazzo floor inlaid with the commemorative emblem inside the front door. Other significant artifacts include two benches used by visitors during court proceedings and one of the chairs from the jurors' box. To this day, the building houses many photographs depicting the history of the building.
Planning for the Future
Saving a historic building is important for the community, but making that historical building special has been the goal of The Arts Council. The old Martin County Courthouse has been restored to its original 1937 architectural design and houses two fine art galleries.
Fine Arts Exhibits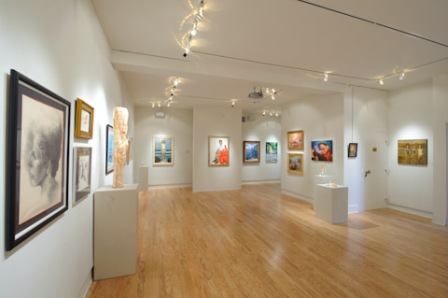 At the Court House Cultural Center, we strive to celebrate and share the arts with the community. In keeping with this, our galleries are host to local, regional and internationally renowned artists. The gallery offers guided tours by appointment, extensive and varied opportunities for those who wish to volunteer and an ideal location for classes, receptions, meetings or special occasions. Love art? The Cultural Center is a fine art gallery that features paintings and artwork for sale.
Court House Cultural Center Hours:
10:00 a.m. - 4:00 p.m., Tuesday - Friday, or by appointment. 
Saturday, 11:00 am - 2 pm except for the summer show and holidays. 
Admission to the center is free, though a donation is greatly appreciated.
Court House Cultural Center Gallery Shows 2014-2015
Current Exhibition
An Abstract View

Featuring the art work of Jean Banas, Mary Lou Gibson. Jill Lavetsky, Jane Lincoln, Roberta Marks, Gail McCarthy, Hanne Niederhausen, Lee Passarella, Carol Staub, Leslie Stokes, Terry Thommes, and Bill Ward

Opening Reception Friday, February 13, 2015 | 5:30pm-7:00pm
(Image detail: "Asian Moment" by Lee Passarella)
Upcoming Exhibition
Marvin S. Cone 29th Annual High School Juried Art Show

Students participating are from Martin County, South Fork and Jensen Beach High Schools, Clark Advanced Learning Center and The Pine School
Awards Reception: Friday, April 24, 2015, 5:00 - 7:00 pm
Court House Cultural Center, 80 E Ocean Blvd., Stuart, FL
Through May 23, 2015
COLOR!

Featuring artwork by members of:
Art Associates of Martin County
Hobe Sound Fine Arts League
Jensen Beach Art League
Palm City Art Associates
The Arts Council

Opening Reception: June 12, 2015
Past Exhibitions
Guidelines and Application to Exhibit at the Gallery: