Solidarity Fish Project
Janeen Mason, Martin County artist, illustrator and advocate for our river and the arts, initiated the Solidarity Fish Project.  Kickstarted at ArtsFest 2013 with a WSA Grant, residents have been painting fish together ever since. 
The Solidarity Fish Project is vivid evidence of Florida's communities working to change the status quo. It is a fun arts activism event that engages the young and the young-at-heart. This colorful school of hand painted wooden fish is growing by 1,000 every time another municipality sponsors a project. The result? Monumental Temporary Public Art Installations that stop traffic and inspire stewardship. What do we want? Clean water. Learn how your community can get involved. Together we ARE making a difference. www.SolidarityFish.com (This project began when Janeen Mason called on two other talented artists, Marjorie Shropshire, and Marcia Moore. It grew with the help of hundreds of volunteers and the passionate support of artists, environmentalists, and ordinary people doing extraordinary things. We love you all.)
---
"Eco-Art:" Creating Environmentally-Friendly Art
A new era in art has begun. It meets at the intersection of Politics and Culture; where environment meets canvas. Environmentally-friendly art, or 'eco-art,' has been gaining popularity among artists due to its sensitivity to one of the largest, political issues in our world today. For several months in 2012, eco-artist Jesse Etelson assumed the role of liaison between the students of South Fork High School and this turning-of-age genre. During Etelson's participation with Tami Conrad's classes, students gathered their supplies and creativity to begin the four-month journey into planning the first student eco-art exhibition in Stuart. Student artist Victoria Wienke, a full-fledged environmentalist, considered the project "a good opportunity to … create an artwork that would have a greater meaning."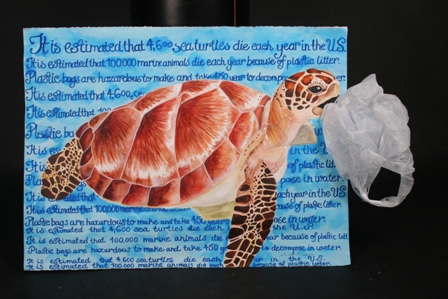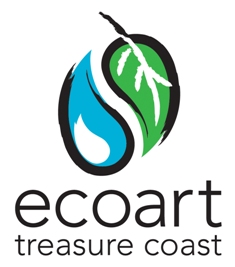 Community Embraces EcoArt Treasure Coast
Many people and supporting organizations made EcoArt Treasure Coast a successful pilot project.
EcoArt Treasure Coast was a joint collaboration between the Arts Council, Inc. and the South Florida Environmental Art Project. It is was the first ever community eco-art education and apprenticeship in the state of Florida.
Ecoart Treasure Coast was funded by the State of Florida (Department of State, Division of Cultural Affairs), Community Foundation for Palm Beach and Martin Counties, and private donations.
In January 2010, Betsy Damon and the project's apprentices began collaborating with a number of local organizations on a range of projects designed to illustrate how artists and citizens from a broad spectrum of disciplines can work together and significantly restore and remediate the local ecosystem.
FOS was a key partner working with the apprentices for an Earth Day project with EcoArt Treasure Coast. On Earch Day 2010 two floating islands were installed in the saltwater lagoon at the Florida Oceanographic Institute on Hutchinson Island.
Ram Realty Services donated a studio space to EcoaAt Treasure Coast. Located in the Martin Downs Town Center in Palm City, the space will hosted exhibitions, apprentice and community meetings and serve as an "idea foundry" for the project's six apprentices as well as volunteers.
Our Collaborator: South Florida Environmental Art Project
SFEAP MISSION: To catalyze the emergence of South Florida as a major center for the practice of ECOART.
For more information, please go to sfeap.org, or contact Mary Jo Aagerstoun, Founder/President of SFEAP, Inc. mjaagerstoun@sfeap.org or 561-881-5658
Ecoart Treasure Coast attracted hundreds of people to a four-day symposium in April 2009. Artists, business professionals, government officials and local citizens learned about the Ecoart movement and its application on the Treasure Coast. Audiences gathered at locations around Martin County to hear speakers, watch documentaries and participate in panel discussions.