Pearce Homestead Paint Out Announcement to all Art Associations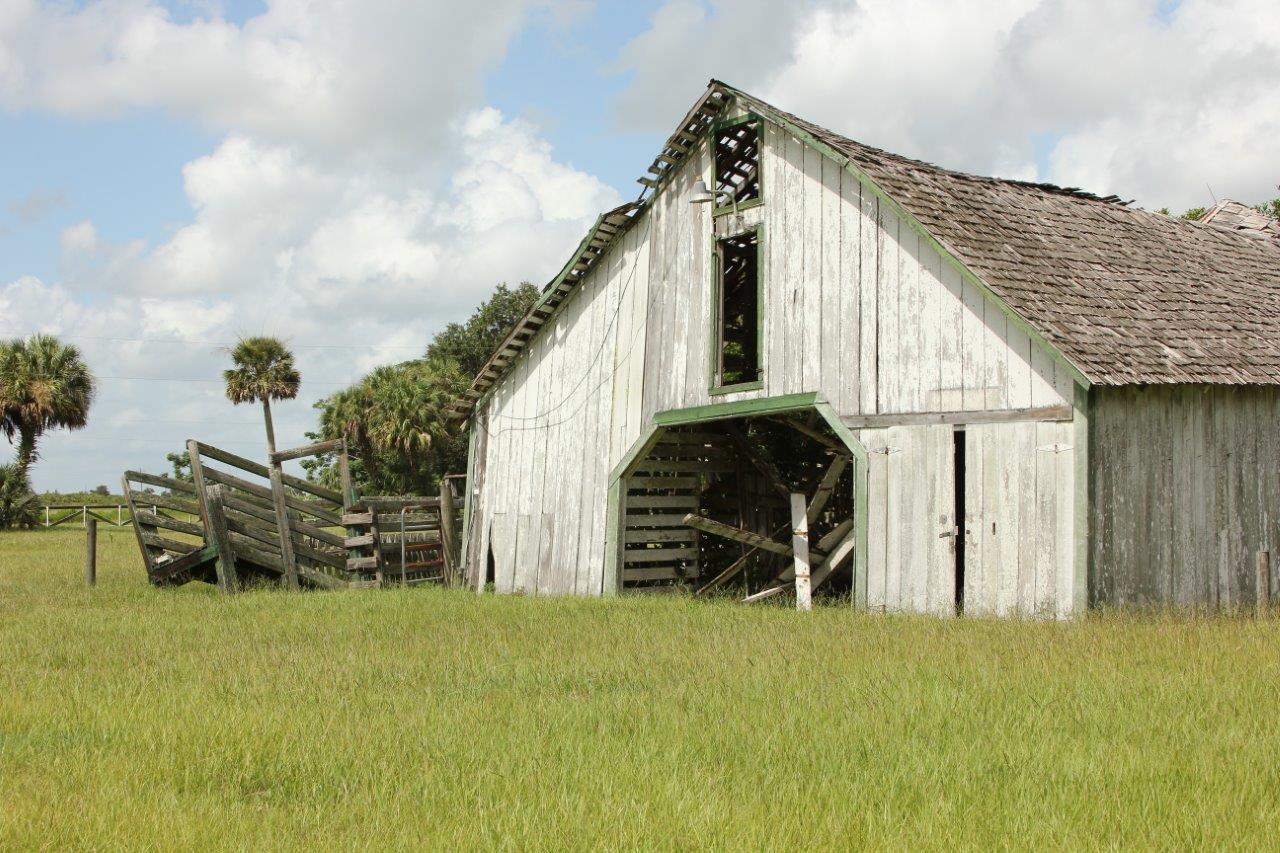 Pearce Homestead is located west of the town of Okeechobee and was established in mid-1800 by John Pearce. It was one of Florida's largest cattle ranches and the largest ranch owned by a woman, Edna Pearce, the descendent of John Pearce. When she died in 1993 the Estate was donated by the Trust of Edna Pearce to the South Florida Water Management District on the condition that it would remain open to the public. On the property is the 1916 home of Edna, a barn, smokehouse, boathouse and dock, 1910 schoolhouse, family cemetery, and century old oaks draped with Spanish moss.
All located along the Kissimmee River. It is a historical treasure. It is also falling apart through lack of funds for upkeep and repair. The barn roof has fallen in and everything is dilapidated. But to the artist, it is a unique opportunity to paint and record a disappearing bit of Old Florida.
A couple of miles down the road is the Riverwoods Field Lab run by FAU Florida Center for Environmental Studies and the Water Management District which is in the process of restoration of the Kissimmee River Flood Plain. Loisa Kerwin, the Director of Riverwoods Field Lab, runs educational workshops for groups. She will provide access for us to the Pearce Homestead. There are no facilities open at the Pearce Homestead but the Riverwoods Lab is just down the street.
Artists would need to bring their own brown bag lunch and drinks. We would just ask a small $10 donation to be given that day to Riverwoods for their educational program and to help with the upkeep of the Homestead. If you want to give more that would be appreciated too.
This is all to build awareness of the Pearce Homestead and to record this area before it is all gone. A future show will conceivably be built to showcase these paintings and promote this historic plantation. That will be announced when it is developed further. For now, please come the morning of November 12th for a day of painting a unique part of Old Florida! If you have any questions, please don't hesitate to contact me at the numbers below.
Directions to the Pearce Homestead:
Take the Martin Hwy 714 exit (exit 110 from Hwy. 95) west to where it ends at State Rd 710.
Turn right on State Rd. 710 and go 9.82 miles.
Turn left onto State Rd 70.
Go through the town of Okeechobee for 2.98 miles.
Turn right onto US Hwy 98.
Follow US Hwy 98 for 18 miles
Turn left onto County Road 721
First left onto Boon Dock Rd.
First property on left (bordered by Hwy. 98, County Road 721, Boon Dock Rd., and Kissimee River)
Boon Dock Rd., Ft. Basinger, FL
Chris Kling
cbkling@bellsouth.net
Home: 772-288-0506
Cell: 772-285-7826