TCCS Chamber Concert – Vaughn Williams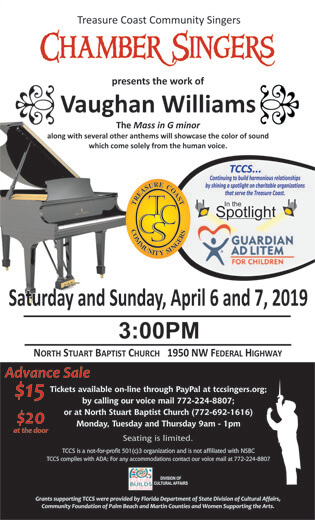 " Vaughn Williams' Mass in G Minor & Other Anthems" Chamber Singers Concert.
TCCS Chamber Singers will present Vaughn Williams' Mass in G Minor, plus other challenging pieces for voice, including Barber's moving Agnus Dei (a vocal version of the beautiful Adagio for Strings), several pieces by John Rutter, Howells' Te Deum & Jubilate, plus a special 'local' song that will make you laugh! Come & enjoy this beautiful music with us.
Guardian Ad Litem for Children is our Spotlight for this concert series. This wonderful group's moto is "I am for the Child'. They provide both court/legal and volunteer child advocacy services, giving children in need a person to rely on when they are most vulnerable. GAL is a Florida statewide program with the 19th Circuit Court GAL program covering our Treasure Coast counties (Martin, St. Lucie, Okeechobee & Indian River.) Representatives will be at both concerts to share information about their programs & volunteer opportunities.
Under the direction of Dr. Doug Jewett, founding artistic director of Treasure Coast Community Singers, the concert will be Saturday and Sunday, April 6th and 7th at 3 pm at 1950 NW Federal Highway, Stuart, Florida (North Stuart Baptist Church auditorium.) TCCS is a Not for profit 501(c)3 organization & is not affiliated with the church. TCCS is ADA compliant; for requests please notify us at the door or call 772-224-8807 prior to the concert.
Tickets for the performances are $15 presale or $20 at the door. Visit our website www.tccsingers.org to purchase in advance via PayPal or by calling 772-224-8807. A portion of all ticket sales helps fund our annual scholarships for graduating high school students pursuing college degrees in music or performance. If you, or your children, love to sing, we welcome new members and have choirs for all ages – we would love to meet you!
Treasure Coast Community Singers! Visit us on the web at https://tccsingers.org/ or on Facebook at https://www.facebook.com/tccsingers/