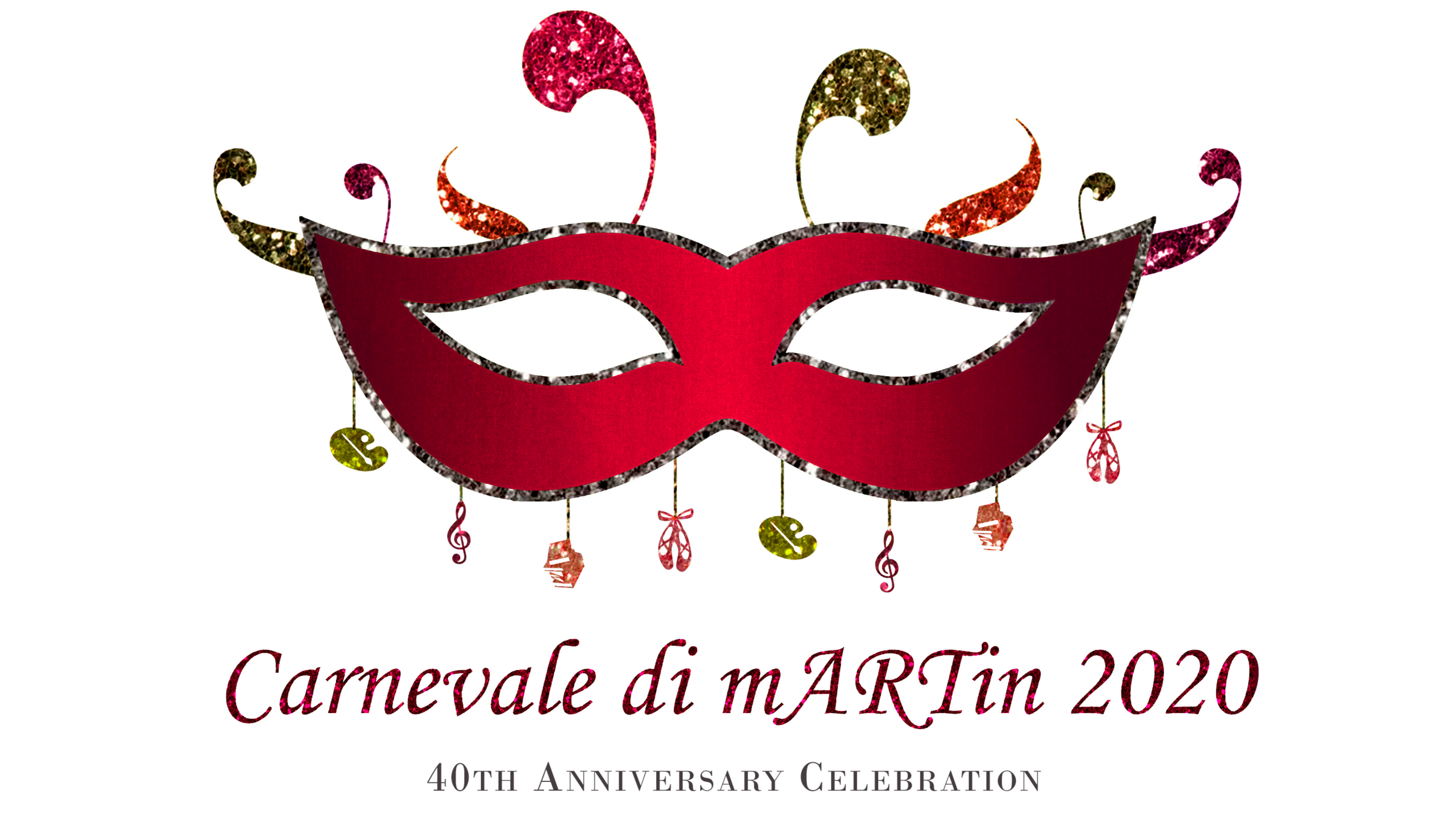 Sponsorship Opportunities
The Doge's Palace | $10,000
10 tickets at a premier reserved table
Invitation to be a member of the Carnevale Court
Invitation to special VIP pre-event reception
Sponsors board recognition
Choice of two personal artist-created masks
Full Page ad (premium placement) in the commemorative MartinArts Magazine edition for the 40th Anniversary and the Fall 2020 edition
ArtsFest VIP Tickets
The Merchant of Venice | $5,000
8 tickets at a premier reserved table
Invitation to special VIP pre-event reception
Sponsors board recognition
Choice of two personal artist-created masks
Full Page ad in the commemorative MartinArts Magazine edition for the 40th Anniversary
ArtsFest VIP Tickets
The Pantalone* | $2,500
4 tickets
Invitation to special VIP pre-event reception
Sponsors board recognition
Choice of two personal artist-created masks
Half Page ad in the commemorative MartinArts Magazine edition for the 40th Anniversary
ArtsFest VIP Tickets
*Derived from a classic character in Italian theater, Pantalone had a witty, intelligent personality.
The Bauta* & the Colombina* | $1,250
2 tickets
Invitation to special VIP pre-event reception
Sponsors board recognition
Choice of one personal artist-created mask
Quarter Page ad in the commemorative MartinArts Magazine edition for the 40th Anniversary
ArtsFest VIP Tickets
*Standardized Venetian disguise required at political decision-making events, thereby ensuring anonymity.
*Named after a maidservant in the Commedia dell'arte; originally the female counterpart of the Bauta.
All sponsors receive a social media spotlight. All sponsors will be listed on the event page of MartinArts.org.
Underwrite or Purchase a Mask
Wall Art Mask | $750
Mask is approximately 36" wide by 18" tall.
Commission an artist to beautify your mask or do it yourself.
Recognition on inside of mask and on the event program
Masks can be displayed in the VIP tent at ArtsFest. Masks can be donated back to the Council to sell.
Includes 2-VIP tickets to ArtsFest
Personal Masks | Starting at $50
Purchase an artist-enhanced mask at one of the events (schedule TBD) to wear
Commemorative Program Ads
MartinArts Magazine Spring 2020 will commemorate the 40th Anniversary of the Arts Council of Martin County
$600 Full Page
$350 Half Page
$275 Quarter Page
$100 Friends Listing
Please contact Laura Daniel, via email or phone, 772-287-6676 ext 6, to discuss any of the above sponsorship investments.