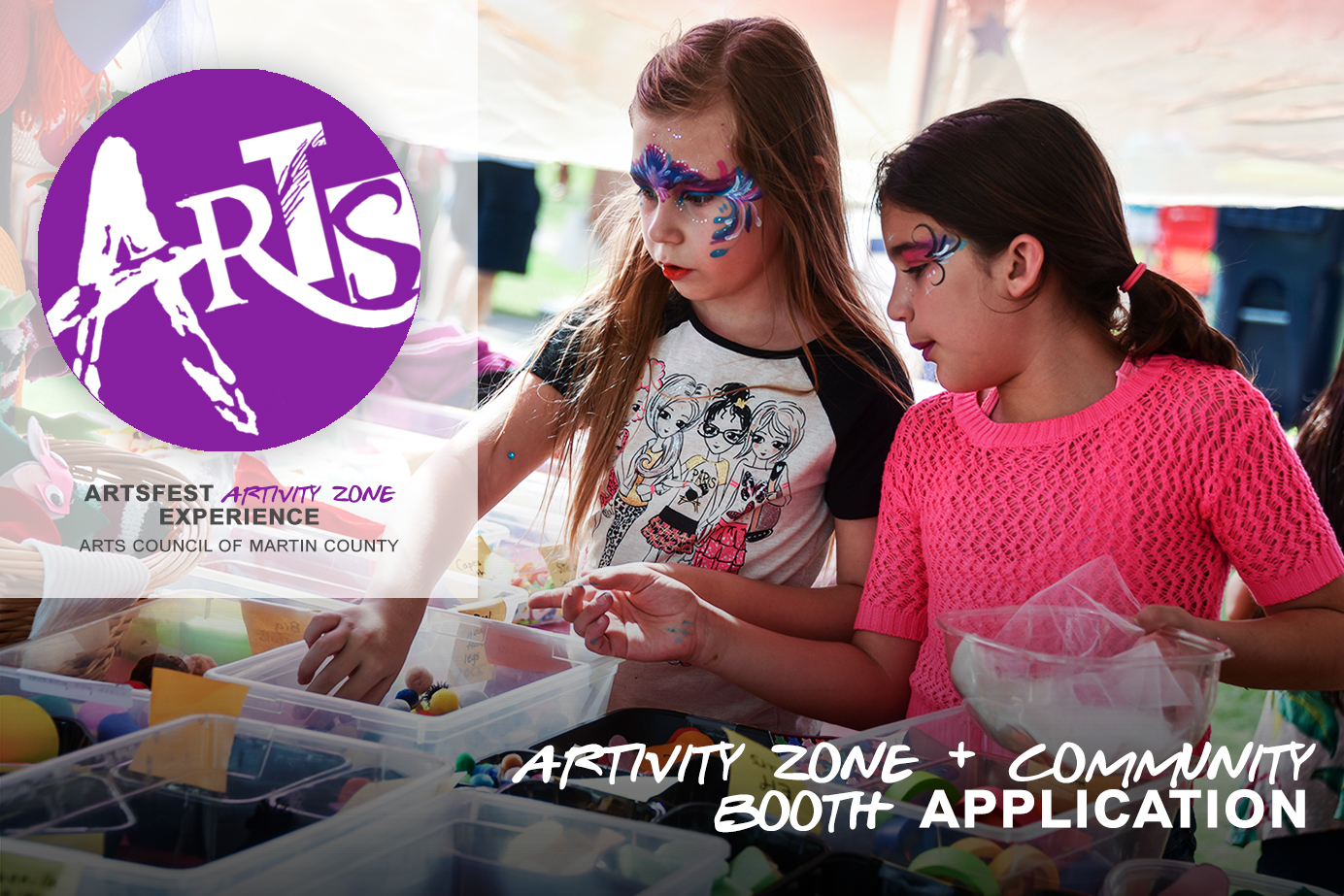 ArtsFest 2020 ARTivity Zone & Community Booth Application
Application Deadline: December 4, 2019
The 33rd annual ArtsFest, A Celebration of the Arts, is an outdoor arts event showcasing a juried exhibition of 125+ outstanding fine artists and featuring activities which include live entertainment, artist demonstrations and interactive art activities for youth.  ArtsFest 2020 will take place Saturday, February 8th and Sunday, February 9th along East Ocean Boulevard and Memorial Park, located in Stuart, Florida.  As part of our Community Outreach, The Arts Foundation for Martin County is inviting area Non-Profit Organizations, Community groups, and School clubs to participate in the festival.  For organizations to be considered, they must meet the following guidelines:
2020 ARTivity theme: World Culture Click HERE for a list of activity ideas!
Rules / Regulations:
1. Participants MUST be a Non-Profit Organization, school club, community arts related organization, or similar, serving Martin County, Florida and/or the Treasure Coast area.
2. Booth fees are $250* and include a 10' x 10' white tent, table, 2 chairs, and admission for 8 volunteers ($80 value). 
Space is limited to a 10' x 10' area.   Additional space may be requested depending on activity.
*Fee may be waived if providing hands-on activity or service for festival patrons at discretion of the ArtsFest Committee.
3. Guidelines for booth organizations with coupons or samples:
Organizations' staff may not walk into the crowd to pass out information. 
All information about product must be dispersed within the booth space. 
Only approved products and information as described in the vendor sign-up sheet may be dispersed from booth space.  If organization disperses any additional items without written approval from ArtsFest Event Director, the booth may be shut down immediately and no refund will be considered. 
No sales of food, beverage, or goods is permitted. High School clubs may sell artwork ONLY.
4. Corporate sponsors of your organization may not post signs, banners, or handouts from the booth unless they are also a corporate sponsor of The Arts Foundation for Martin County.
5. Your display tent must be open and manned during ALL normal ArtsFest Operating Hours (Saturday 10am-7pm and Sunday 10am-5pm).  Any closed or unmanned booth will be shut down for the remainder of the event and no refund considered.
6. Exhibitors are required to decorate their booth space appropriately.  You will be responsible for tablecloths, table skirting, and signage.  Signage may not be placed outside of the booth area.
7. ArtsFest is not responsible for any valuables left in your area.  Please secure your belongings at night.
Please complete form below to agree to terms.  Once application has been reviewed, a follow up email will be sent with any follow up questions and payment instructions (if applicable).