PHILANTHROPY IN THE ARTS | Jerome and Phyllis Rappaport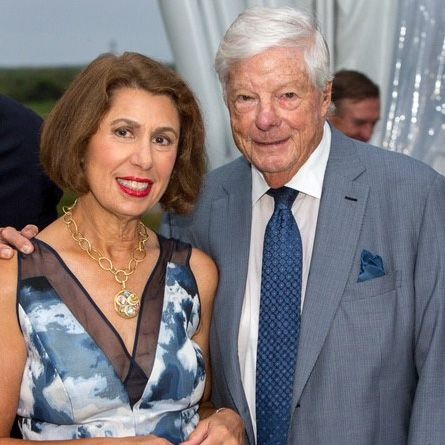 Jerry Rappaport has been a longtime political leader, real estate developer and philanthropist in the Greater Boston community for the last 70 years. While a student at Harvard and Harvard Law School, he became involved in the Boston political scene, founded the Harvard Law School Forum and then quickly emerged as one of Boston's most well-known political leaders in the 1950's. Rappaport was one of the pioneers whose commitment to turning Boston around, by developing Charles River Park, home and workplace to over 10,000 people, helped drive Boston's renaissance. He expanded his commitment to the Greater Boston community on a philanthropic scale by founding the Phyllis and Jerome Lyle Rappaport Foundation in 1997. He was chair of the New Boston Fund and serves on advisory boards for Massachusetts General Hospital, Brigham and Women's Hospital, McLean Hospital, Cure Alzheimer's Fund, Harvard University's Rappaport Institute for Greater Boston, and Boston College Law School's Rappaport Center for Law and Public Service. 
Phyllis Rappaport chairs the board of the Phyllis and Jerome Lyle Rappaport Foundation. She is a co-founder and director of Cure Alzheimer's Fund which supports prize-winning research for preventing this disease. She serves on boards and national committees for institutions including the Massachusetts General Hospital, McLean Hospital, Harvard University's Rappaport Institute for Greater Boston, and the deCordova Sculpture Park and Museum. She was an elected official and chair of a regional high school committee. A graduate of Smith College and Simmons Graduate School of Management, Phyllis Rappaport is a businesswoman formerly with a Fortune 50 technology company and PriceWaterhouseCoopers.  She served on the New Boston Fund board.
Shortly after Jerry and Phyllis Rappaport moved to Florida in the early 90's they began their community involvement with their contribution to build Martin County's only Jewish temple, Temple Beit HaYam.  Over the last decade they began to mold new programming within Temple Beit HaYam and bringing important speakers who draw hundreds of community attendees to the Rappaport Center for thoughtful conversations. In April 2019 the Center partnered with the Martin St. Lucie Community Foundation and the Arts Council to host artist Titus Kaphar, winner of the 2018 Rappaport Art Prize and a 2018 MacArthur Fellow.  Titus Kaphar uses art to dislodge history from its status in the "past" to unearth its relevance today.  His compelling lecture was titled "Art, History and Social Change".   
Jerry, a classical music lover has also been the chairman and board member, now emeritas, of the Treasure Coast's world-class Atlantic Classical Orchestra. In 2013 they partnered with the ACO and funded the Rappaport Art Price for Music Composition, to introduce new quality works by American composers into the chamber orchestra/orchestra cannon, thereby perpetuating not only the incredible works of the past, but the vibrant works of today and tomorrow.
The Rappaports contribute to many area initiatives including StarStruck, the Lyric Theatre, the Elliott Museum, the Martin County Library Foundation, and the Cleveland Clinic Martin Memorial Health Foundation.
Their Boston-based Rappaport Foundation focuses on state and local public policy, basic research in neurodegenerative disease and mental illness and funds an annual artist prize through the deCordova. The Rappaports are enthusiastic art collectors of modern and contemporary painting and sculpture.