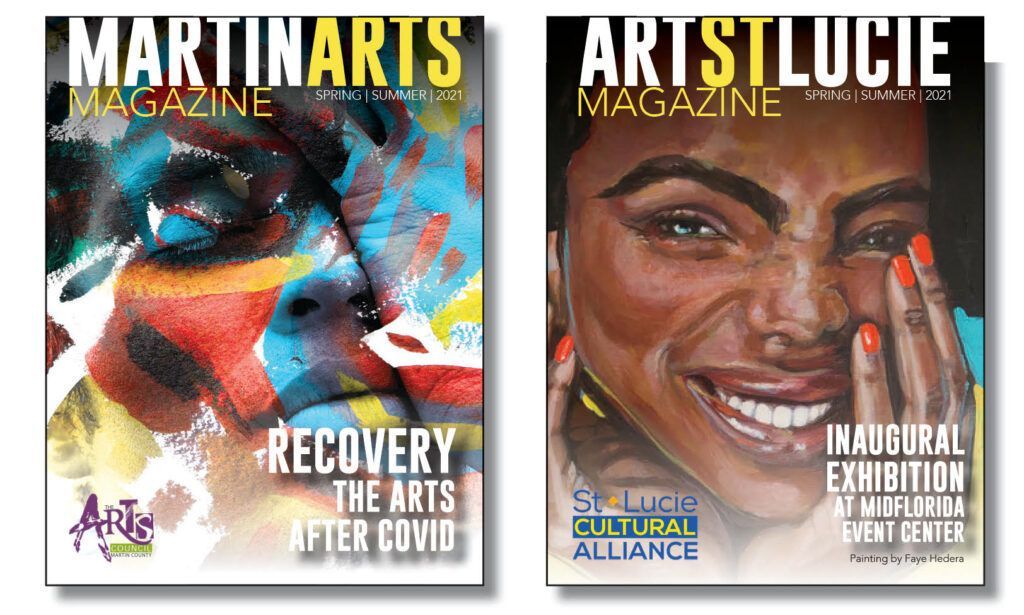 March 9, 2021 – Fort Pierce/Stuart, Fla. – With innovation, and creative forward-vision, executive directors of Arts Council of Martin County and St. Lucie Cultural Alliance have teamed up to promote talent on the Treasure Coast with the launch of a joint magazine: Martin Arts Magazine/Art St. Lucie. The first issue scheduled for release in April 2021 will give readers an inside look into a host of cultural visionaries and a wealth of invitations to discuss the importance of buying art from local artists.
Arts and cultural powerhouses Nancy K. Turrell, Executive Director of the Arts Council of Martin County and Alyona Ushe, Executive Director of the St. Lucie Cultural Alliance, see the joint magazine as an illuminating vehicle to build awareness of immense talent exploding on the Treasure Coast and the chance to showcase human-interest stories behind the area's great cultural innovators.  Stories that highlight each county's upcoming events, the great diversity of individual artists, and expanding public art programs are planned for the issues.  Publish bi-annually, the magazine features 'Arts & Culture Seen' highlighting social happenings; a 'Member's Spotlight' section, and articles on arts education, and arts and healing will feature issues, trends and perpetuate excitement around the 'who's who' and 'what's new' on the arts and cultural scene.
The first issue, set to launch in April 2021, will unveil two beautiful covers. Eight thousand copies will be distributed and mailed in the counties' downtown corridors, various venues throughout the Treasure Coast, and affluent art supporters. It will also be available for viewing online, at martinarts.org, and artstlucie.org.
"Our audience is an eclectic mix of new-found arts-lovers and the traditional arts patron," said Ushe. "Art has no boundaries, and this magazine will let our cultural community know what their counterparts are doing, open new opportunities to collaborate, and highlight the exciting events in both counties. It's an exciting way to showcase the incredible talent we have, from new galleries to performing venues, to festivals and innovative work – with an inside look into the personalities that make our counties such an exciting place to live work, and visit," Ushe said.
"We want to highlight that art lovers don't see 'borders' separating two counties," said Turrell, who has been publishing a magazine since 2004. "We are one, large, fantastic cultural community that is supportive of one another and its talents."
Turrell started MartinArts Magazine in 2004, as a section embedded in the TravelHost magazine, and later it became, "just ours," she said. "The newness is the cross-county approach and partnership."
Said Ushe, "Nancy has been doing an amazing job with the magazine, and we are thrilled to partner on this logical expansion. We exist to promote our cultural communities and the abundance of talent and the creative innovators on the Treasure Coast."
"We want our readers to get to know the artists, what motivates, excites them, and inspires their creativity to blossom!" both Turrell and Ushe agree.
About The Arts Council of Martin County
The Arts Council since 1980 has served as Martin County's local arts agency, providing arts experiences for the soul of our community, and serving artists, arts organizations and students with support and educational opportunities. Located in the historic Courthouse Cultural Center in downtown Stuart, the Council curates' exhibitions that include the "All Florida Juried Show" and "the Marvin S. Cone High School Juried Art Show" annually. To inspire participation in the arts, the Council produces a bi-annual MartinArts Magazine supported by a host of other communications including MartinArts.org with an artist registry and cultural calendar. The Arts Council is a nonprofit organization supported by the National Endowment for the Arts, the State of Florida Department of State Division of Cultural Affairs, Martin County and many private and corporate donors, including the Arts Foundation for Martin County.
About St. Lucie Cultural Arts
St. Lucie Cultural Alliance is committed to better positioning St. Lucie County as a cultural destination in Florida and strengthening its communities by embracing art and culture. The Alliance is located in the heart of Downtown Fort Pierce, where it exhibits and promotes its members' artwork. To provide additional opportunities for regional artists, the Alliance collaborates with MIDFLORIDA Event Center to host numerous events, including an annual Alliance Art Guild Exhibition, Holiday Concert, and Treasure Coast Arts and Mindfulness Fest. The Alliance also partners with the cities of Fort Pierce and Port St. Lucie to develop and enhance existing events and festivals, including Fort Pierce Art Walk, The Highwaymen Festival, and Public Arts Programs. St. Lucie Cultural Alliance is a 501(c)(3) nonprofit organization supported by the National Endowment for the Arts, the State of Florida Department of State Division of Cultural Affairs, St. Lucie County, the City of Port St. Lucie, and other private support.
To advertise in the magazine, please contact Tara Biek Robison at mcslcartmag@gmail.com or 772-486-3684