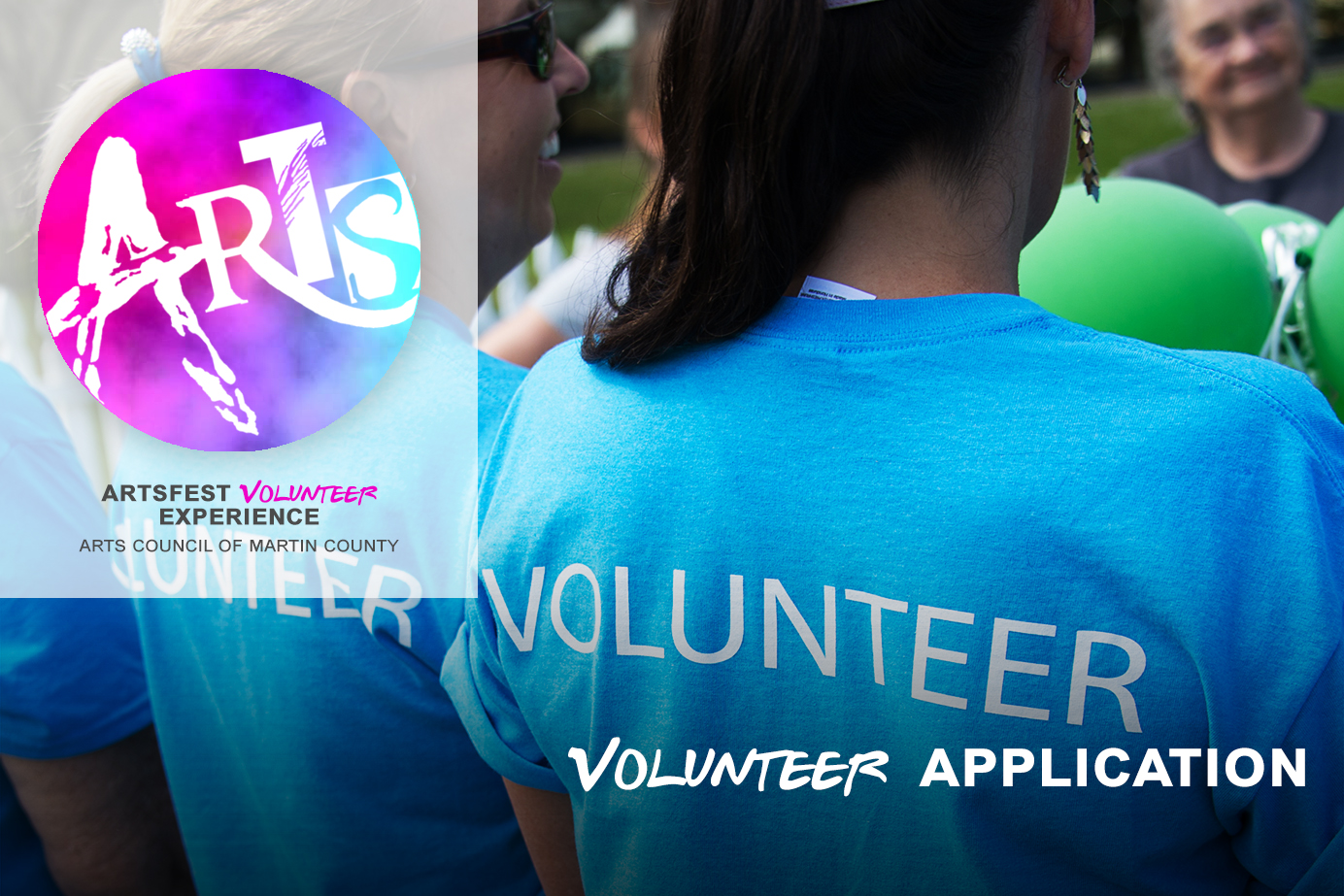 A hometown celebration of the arts since 1988!  ArtsFest Stuart is a two-day outdoor arts festival held in Memorial Park and along East Ocean Blvd. in historic Downtown Stuart to celebrate the arts - music, visual, literary, culinary, dance, kids activities and more! 
Thank you for helping to support ArtsFest and The Arts Council with your time.  Your volunteer assignment will be reviewed with you when you arrive and meet your team captain at the event. The time and location where you will be working are indicated in an email you should receive after registration.  We depend on your commitment to participate. Your presence and prompt arrival for your scheduled shifts are necessary. It is very important to remember that if your schedule must change, or if you have an emergency, please contact us immediately.
VOLUNTEER ORIENTATION
2020 dates TBA 
Court House Cultural Center, 80 SE Ocean Blvd, Stuart.
This meeting is to get everyone acquainted with their job duties, the ArtsFest Staff & Committee, pick up volunteer t-shirts, and to give you the inside scoop on what is going on for the weekend.
Volunteer Perks
FREE ArtsFest Stuart t-shirt
Volunteer hospitality
Meet artists from around the country and the world
Get to know other volunteers — HAVE FUN!
Promote and support the arts in Martin County!
Volunteer Priorities
FUN is why we volunteer! Smiling is contagious. Safety is always the first priority; this is why we ask that no alcoholic beverages be consumed while volunteering. Patience is always a must.  While volunteering, please remember to treat everyone, visitors and other volunteers, with courtesy. If problems occur, please contact an ArtsFest Steering Committee Member. We are there to assist you and can be identified by our name badges. During the festival, Steering Committee Members will be checking volunteer locations to make sure everything is running smoothly. Please let them know of any concerns you may have. We want to make your volunteer experience fun and safe, so let us know what we can do to help.
What to Wear
Wear your volunteer t-shirt.  Dress comfortably for outdoors and listen to the weather. Bring rain gear, if rain is predicted — we still need you. Don't forget your sunscreen! Comfortable shoes are a must, our festival site is busy and you will probably be on your feet.
What do Volunteers Do at ArtsFest?
Artist Load in / Load out: Assist artists during festival set up by locating their assigned area and distributing Artist Welcome Packets.  Assist during breakdown of event after visitors have cleared the site.  All artists and vendors must have area packed and ready to load prior to driving into site.
Artist Ambassadors: ArtsFest Ambassadors are our first line of support for the artists. They serve as booth-sitters and run errands for artists as needed. This committee requires a winning smile and a helpful attitude.
ArtsFest After Dark: Positions include collecting tickets and admissions, monitor exiting patrons and secure site throughout event.
ArtsFest Greeter: The Gate Keepers of the event! Volunteers here will collect admissions, hand out event information, and monitor exiting patrons as they walk through our entrances.
ARTivity Zone: Several non-profit organizations have gathered together to create a STEAM experience for guests of all ages to enjoy. This section requires a little patience and a lot of joy while patrons participate in activities.  If you are creative and love people – this is your area to enjoy!!!!
CHOPPED Arena and Culinary:  Assist with setup and cleanup of CHOPPED arena for competition and culinary activities.
Cultural Center Docent:  Greet visitors to the current exhibit at the Court House Cultural Center and give general information about ArtsFest and Arts Council.
Entertainment: Assist performing artists load in/out equipment and maintain entertainment access gate.
Site Operations: This committee will oversee all internal aspects of ArtsFest from inventory, signage, and parking to police, first-aid and risk management. All supplies, equipment and rentals are secured and distributed by this committee.
Volunteer / Information Tent: Assist with Volunteer check-in, t-shirts, and hospitality, and general event information to patrons.