DREAMS, celebrated the Arts Council of Martin County's 30 years of service to the Martin County community on Saturday, January 22, 2011. VIP guests were treated to a pre-performance, exclusive, private preview of the "Private Beauty: A Celebration of Treasure Coast Collectors" exhibition, a collection of loaned works from our region's finest art collectors, in the CHCC Gallery.
The concert program weaved through music, dance and theater a story about the importance of pursuing one's dreams. The original event featured more than 75 performers representing 13 performance art groups enhanced with multi-media. The diverse talents showcased during the program will came together for a grand finale featuring the Impossible Dream, from the musical Man of La Mancha.
Participating in the DREAMS concert were over 100 talented performers are partcipating! The best of Martin County's performing arts organizations: students of Bach's Children Music School, dancers of Florida Arts & Dance Company, Starstruck Performing Arts Center, JBHS's Jubilate, Treasure Coast Youth Symphony, the Barn Theatre, members of MCHS's OPUS, Treasure Coast Community Singers, and Terry Barber, and mo...
Funds raised through this event support the mission of the Council through: arts education, exhibitions & programming at the Cultural Center, providing resources for the cultural community: organizations and artists, and being an information source for the community and our visitors about the arts.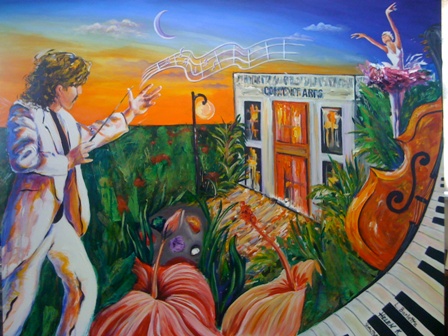 "Convergence"