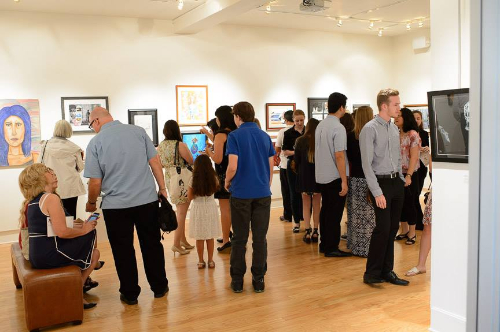 Each year the Arts Council presents the Marvin S. Cone Annual High School Juried Art Show to recognize the artistic talents of Martin County high school students. The art teachers at each school select each piece of artwork for entry in the exhibit. It is a highly competitive process; the categories for cash awards are photography, painting, sculpture, mixed media/assemblage, printmaking, and drawing. The awards reception is held at the Court House Cultural Center Gallery. Additionally, each high school principal and the school superintendent select pieces to purchase that become a part of a permanent collection at their respective high schools and the superintendent's office.
For more information about the Arts In Education programs, please feel free to contact us.
About Marvin S. Cone:
Marvin S. Cone, a local writer, poet, art collector, entrepreneur, and educator was inspired by the creativity of art students in Martin County. He sought to encourage young people to pursue even greater achievements by transforming the annual high school art exhibit into an event that truly recognized student's artistic accomplishments. Established in 1987, the Marvin S. Cone Annual High School Juried Art Show honors its founder and his unrelenting enthusiasm for young people, for the arts, and for his timeless efforts in making this event what it is today.
---
Marvin S Cone 33rd Annual High School Juried Art Show Awards List (2019)

JUDGES AWARDS

Honorable Mention Awards (across category):
1) "Dirty Laundry" by Anna Gray
2) "Thinking About Diversity" by Mika Fowler
3) "Driftwood Beach, Jekyll Island" by Alexia French
4) "Railways" by Dina Coletti
5) "Stacked" by Ryan Ehrlich
6) "Savior of Innocence" by Isabella Gallese
7) "Fall Harvest" by Chelsea Monet
8) "Nuvoloso" by Teagan Habicht
9) "Cocoon" by Edward Dunn
10) "Tiger" by Cassidy Bean
11) "McCharles Smith" by Katherine Gorham

For Drawing:
3rd Place: "Gucci Linen" by Madeline Corella
2nd Place: "Her Eyes Were Like Saucers" by Shannon Lindsay
1st Place: "Rhinoceros Beetle" by Amelia Stebbing

For Mixed Media:
3rd Place: "Elegance" by Aleesia Wise
2nd Place: "Sugar Coated Distress" Marina Golino
1st Place: "Sicilian Layers" by Nina Curto

For Painting:
1st Place: "Hidden Dangers" by Riki Russell

For Sculpture:
2nd Place: "Trashy Classy" by Caroline Rouse
1st Place: "Struggles Within" by Kristy Diaz

For Photography/Digital Prints:
3rd Place: "Untitled" by Abigail Wilcox
2nd Place: "Scent-imental" by Katie Koedam
1st Place: "Bottomed Out" by Jacqueline Rouse

For Best of Show:
"That Damn Bag!" by Michael Rizzo, South Fork High School

PURCHASE AWARDS

Superintendent's Purchase Award: "Scent-imental" by Katie Koedam

Jensen Beach High School Purchase Award: "Safe Haven" by Kylela Covell

Martin County High School Purchase Award: "Enchanted" by Alexis Dodge

South Fork High School Purchase Award: "The Tenuous Sea" by Caroline Curl

Clark Advanced Learning Center Purchase Award: "Autumn Wolf" by Miguel Paes and "Abstract Dancer" by Kaitlyn Berger

Pine School Purchase Award: "Lavender Garden" by Maria Di Edigio

Supervisor of Elections Purchase Award: "Local Legacies" by Alexandra Trejo

The Historical Society of Martin County Purchase Award: "Der Jäger" by Abrielle Marksteiner

Children's Services Council: "Angelica" by Faith Hill

Zweben Law Group: "Untitled" by Abigail Wilcox

---
Thank you to our Sponsors!
---
Interested in supporting this exhibit?
---