Currently in the Gallery...
---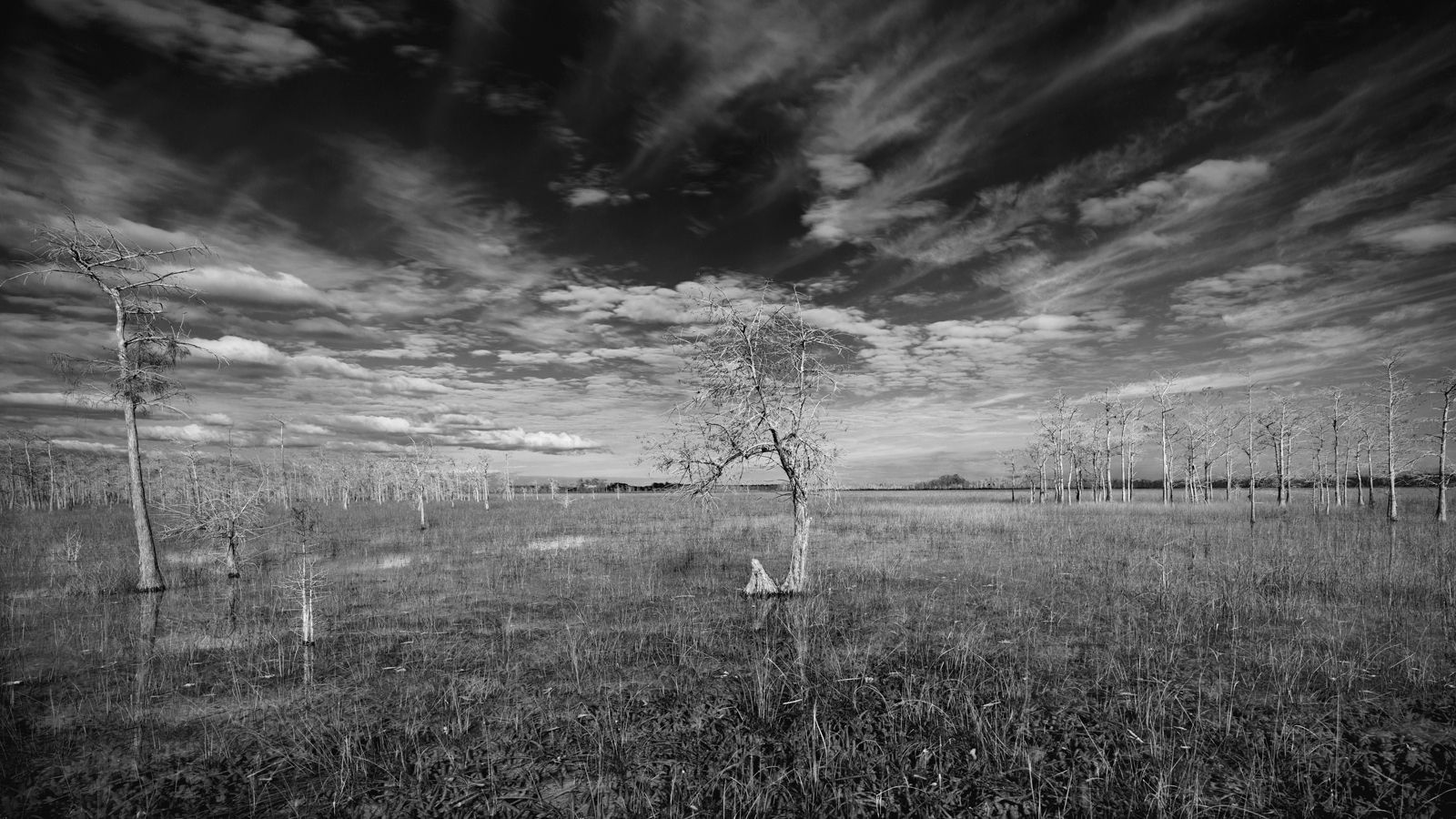 Clyde Butcher: America's Everglades
Exhibit Dates: January 12 - March 13, 2021
The rugged and remote beauty of the Everglades is captured in these works which span over three decades of foraging into dense swampland. Delicate ecosystems, rare botanical specimens, and sweeping landscapes bring the wonder of this mysterious part of our country to light.  The beauty of the Everglades is celebrated in the monumental photographs of Clyde Butcher. The scale, extraordinary clarity and tonal range set his photographs apart as exceptional works of art, earning him recognition as the foremost landscape photographer in America today. These powerful black and white images are portraits of the eternal bond between man and nature that is the soul of the Everglades. From the deepest cypress strands of the sawgrass prairies, coastal waters, and languid estuaries, to pinpoint still-lives of rare species, Clyde reveals its ecosystems in magnificent detail. He makes an unquestionable case for why we should care about its future. 
This expansive wilderness collection represents the many years Clyde spent exploring the remote regions of the Everglades, experiencing its changes. It is a diverse and complex territory which reveals its beauty in many ways. His photographs reveal wild and natural places where few humans have ventured, and the images capture remarkable solitude and wonder. The Everglades is one of the largest wetlands in the world and the largest subtropical wilderness in the United States. Shaped and sustained by seasonally flowing shallow water, the Everglades is home to dozens of threatened and endangered species, massive flocks of wading birds, recovering populations of alligators, crocodiles, and millions of insects. Exceptional for its diverse combination of rich plant and wildlife communities, varied habitats, and remote wilderness, the Everglades has perhaps most importantly become a beacon for conservation.  "Clyde Butcher's remarkable photographs give us access to nature we rarely see or experience. They not only reveal the intimate and majestic beauty of the Everglades–and the need to save this fragile environment–they also remind us of the abiding kinship we mortals share when we work together to preserve these magnificent places. Butcher's art is a national treasure." –Ken Burns, Emmy Award-winning filmmaker
Virtual Meet & Greet with Clyde Butcher
Hosted by Friends of the Everglades, executive director, Eve Samples, virtually meet the renowned photographer and Florida Artist Hall of Fame Artist winner, Clyde Butcher. The artist will join us from his home in southwest Florida for a lively discussion about his America's Everglades series. The audience will have a chance to ask questions via the chat feature. Butcher's "America's Everglades" photographs are currently on exhibition at the Arts Council's Court House Cultural Center, 80 SE Ocean Boulevard, Stuart, FL.
Meet & Greet Tickets: $25
Proceeds benefit Friends of the Everglades and the Arts Council of Martin County
Can't make it to the gallery in person?
---
Interested in Volunteering at the Gallery?
---
Upcoming Exhibits...
Court Room Sessions

Marvin S Cone 35th Annual High School Juried Art Show (2021)

Featuring art work from students of Martin County, Jensen Beach, and South Fork High Schools, The Pine School, and Clark Advanced Learning Center
---
**Gallery Hours (only during an exhibit)
Tuesday 10 AM - 6 PM | Wednesday - Saturday 10 AM - 4 PM
A donation of $5 in support of our exhibitions and programs is requested.
**Court House Cultural Center is monitoring current Covid-19 health and safety regulations and will follow these guidelines:
Gallery capacity is limited to 20 people at a time.
All visitors, staff, and vendors must wear a face covering/mask while in the building. If you do not have one, we can provide a disposable face mask when you arrive.
While in the building, all visitors must maintain a 6-foot distance from others.
Hand sanitizer is available throughout the building.
Staff will clean frequently touched surfaces throughout the day.
We ask that you do not come to the gallery if you have a fever or any flu-like symptoms, or have been in close contact with anyone presumed or confirmed to have COVID-19 within the past two weeks.
Note that while we have done our best to minimize the risk of exposure to the Coronavirus, this risk cannot be completely eliminated. You will enter at your own risk.
Sponsored in part by the Florida Dept. of State, Div. Of Cultural  Affairs, Florida Council on Arts & Culture, the National Endowment for the Arts, Martin County Board of County Commissioners, and private contributions.