Douglas P. Jewett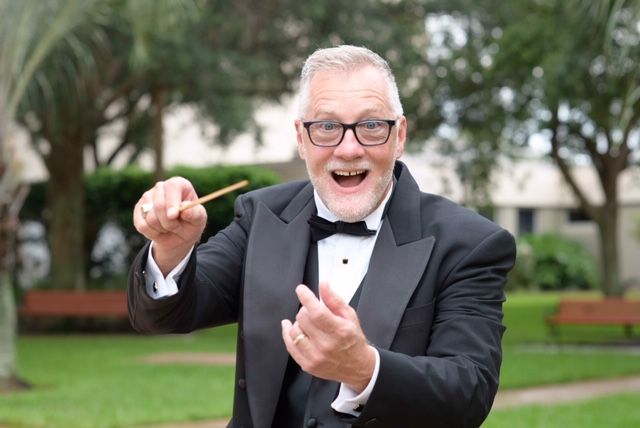 Dr. Douglas P. Jewett has been the inspiration and driving force behind TCCS. In 2003, shortly after moving to the area, he founded Treasure Coast Community Singers with 6 other members with the idea of 'keeping people singing' by inspiring life-long love of singing for singers of all ages along the Treasure Coast. The organization has since grown to encompass four + choirs, two additional directors and over 150 singers in active membership, not including all the non-singer and volunteer involvement needed to produce 6+ performances each season. Doug continues to serve as the primary conductor, CEO and founding artistic director for TCCS, the only Community Chorus on the Treasure Coast.
Through the TCCS Stipend program (awarded to some high school students for participation with TCCS), the TCCS Scholarship program (with annual awards to graduating high school students from the Treasure Coast who will be attending college with a focus on music), and the use of local musicians or returning scholarship students for orchestral accompaniment and solos during programs wherever possible, Doug continues to encourage TCCS to expand within the performing arts community on the Treasure Coast.
Music has been a constant in Doug's life. He grew up singing, moving from church to church as his father established educational and music programs for churches throughout the southeast. Doug holds a BA in Music Theory, and an MA in Choral Conducting, and in 2013 he received his Ed.D. Doctoral degree from Grand Canyon University, Phoenix, Arizona. His love for specific compositions makes itself evident in some of the selections TCCS has performed over the years, including this season's Barber's Adagio for Strings (something he used to go to sleep to in college, except that he always had to wait for the end); Puccini's Messa di Gloria, and Faure's Requiem (which TCCS performed in San Francisco in 2016.)
Doug and his wife Sharon have been happily settled in Martin County since 2001. They have two daughters and 3 grandchildren. Doug served in music ministry for churches in Tennessee and Florida. He is a member and former President of The CenturyMen, a nationally known religious men's Chorale group. Doug was also the 2010 recipient of the Arts Council of Martin County's mARTies award as Outstanding Performing Artist for the area. He currently teaches music in Martin County as well as private voice lessons. In 2018 Doug expanded his own musical reach and became the Principal Conductor for the Indian River Pops Orchestra, leading to the opportunity for synergy between TCCS and the IRPO, who have already jointly worked on two concerts.
Doug believes "Music makes the world sing in harmony". TCCS and the ways it connects to the community promote that harmony while giving more people the opportunity to experience the profound impact of music.