Geoffrey Smith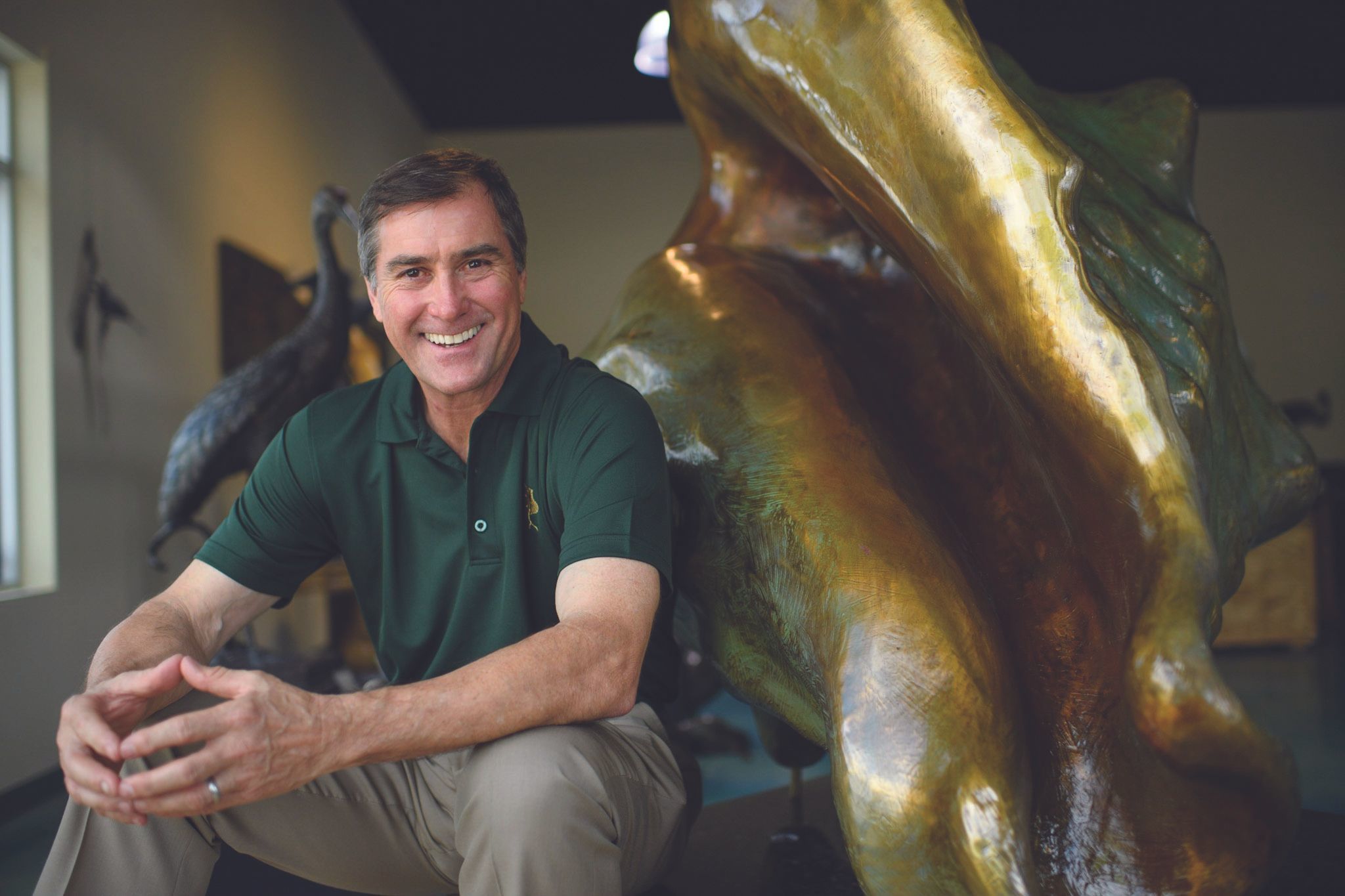 Geoffrey C. Smith (b 1961) is an American wildlife sculptor and photographer. He is a graduate of Montana State University, and currently resides in the coastal town of Stuart, Florida. His best-known work is that of the Stuart Sailfish, an 18 foot monument situated in downtown Stuart that serves as the iconic symbol of the city.
Smith is characterized as a representational sculptor, and though stylistically he may be viewed as a naturalist, his signature aesthetic can be deemed "loose" wherein the subjects of his work are represented by their basic elements, with fingerprints giving the suggestion of feathers or fur. All of his bronzes are yielded using the ancient lost-wax casting process, whereby a clay original of his creation is transformed at the foundry into an enduring bronze of limited issue. He prefers smaller limited editions, proofing each work personally before signing and numbering. Smith also has opted for a traditional patina style on his bronze sculptures, choosing to represent the animal as nature has seen fit to create it.
Smith began casting bronzes from the clay in 1984, after a successful career as a decoy carver. His upbringing on the northern California coast and later experiences in the wilds of Montana instilled a love of the natural world and a talent for patient observation of wildlife in its habitat. After moving to Florida in 1996 with his family he spends most of his spare time amongst the abundant wildlife that inspires so many of his works. He frequently returns to Montana to work with his foundry. As their primary artist, Smith can work hands-on at the foundry to ensure the highest consistency and quality for his sculptures. Geoffrey has been honored with commissions from the state of Montana and from private and corporate collections. He is equally at home creating smaller pieces to capture a favorite animal's detailed characteristics, as he is producing larger than life monumental work. His bronze sculptures have been presented to President George Bush, Vice-President Dan Quayle, state officials and foreign dignitaries. He is a member of the prestigious Society of Animal Artists. In addition to having two Signature Galleries, Smith is represented by fine art galleries throughout the United States and regularly exhibits at fine art shows, including the Annual Society of Animal Artists exhibition where he received The Merit Award for his Modern Pelican sculpture in 2015.