Jackie Robbins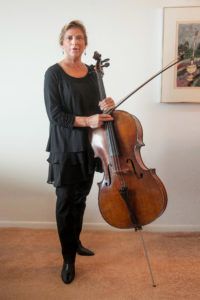 Jackie Robbins, born in NYC in 1950, resides in Jensen Beach on the Treasure Coast of Florida. She is an accomplished free-lance cellist who has had a diverse musical career, ranging from Oberlin College to the Syracuse Symphony Orchestra back in the late 1960's and early 1970's, years of political activism as a musician in touring bands in between decades, to playing as a sub with the Seattle Symphony, Seattle Opera and Pacific Northwest Ballet. She teaches cello privately, plays in various chamber music groups, and also with the Lee Oskar & Friends Blues Orchestra.  She returned to college at age 60 in order to get her B.A. and pursue her "Therapeutic Music" passion, while working on trying to help implement some clinical research and workshops involving playing live music at the Seattle Cancer Care Alliance community.
Nominated as a candidate by Fred Hutchinson Cancer Research Center and Seattle Cancer Care Alliance, Jackie became the only Washington State WINNER of the 2013 LIVESTRONG FOUNDATION Grant as Artist-in-Residence for the "Cancer Community Creativity Outreach Project."
Jackie has recorded on major movie, documentary and I-MAX soundtracks. She played cello or fretless electric bass on albums with contemporary singer-songwriters with artists, including artists such as Dave Matthews, Lee Oskar, Cris Williamson, Bonnie Raitt.
Ms. Robbins has shared live performance stages over the years with musicians backing up names such as Tony Bennet, Joan Baez, Jackson Brown, Bonnie Raitt, Barry Manilow, The Canadian Brass, Cris Williamson, June Millignton, Mannheim Steamroller, Trans-Siberian Orchestra, and John Pizzarelli. In the classical symphonic field, she has accompanied a vast number of world-class classical stars.
She has recently relocated to the Atlantic Coast of Florida, in order to offer palliative music to a larger population. Jackie is currently free-lancing, playing cello in orchestra, opera, and ballet companies across Florida. She is also beginning to coach and teach individual and group cellists at a variety of sites.