Maria V. Aguirre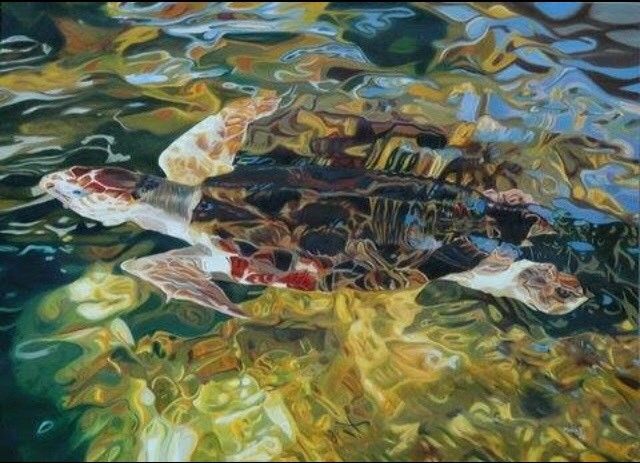 About: 
A New Yorker by birth in 1965, Maria V. Aguirre returned to her beloved Colombia at an early age. In 1998 she moved to Florida and now she lives in the artistic community of Jensen Beach near Stuart with her Daugther.
"Mária V.", as she signs her paintings was educated and schooled in Art and Architecture all her life. Drawing and painting are her passions.
Following High School in Bogotá she enters the Escuela de Artes y Letras (School of Arts) in the Capital. She graduated as an Architectural Drafter in 1987. In 1996 her studies in Diseño de Interiores (Interior Design) resulted in a second degree.
These two career paths reinforced her knowledge of the intimacy of Color and Art history, opening her mind to the world of creativity.
In 1999 she pursued studies in oil painting at the studio of Luisa Martinez (a Colombian artist living in Miami) and the bonding between her several disciplines was immediate.
Moving with her family to Jensen Beach in 2002 she began classes at the Alizarin-Crimson Gallery with a specific focus in color and color mixing.
The transformation was now complete, and the artist began to blossom. In December 2009, her painting "Tortuga" was selected for exhibit at The Elliott Museum in Stuart Fl, And won the 1st. prize. The same month the works "Il Ponte Nutti" and "Prague" were hung at The Mark Gallery also in Stuart Fl.
The fall rekindles artistic spirits after a hot summer and in 2010, the Martin County Council of the Arts requested submissions from artists on the Treasure Coast .
Mária was one of only 2 artists who had 3 pieces selected for exhibit and her work entitled "Amber" was hung in the pride of place on center stage. Her work product was considered so remarkable that a challenge was lodged alleging that the paintings were "giclees"… it was proven beyond any shadow of a doubt that it was her hand and her paint on the canvas.
In January of 2011, Maria's work entitled "Tell-Tail" was exhibited at the 4th annual 100 Years of Cars show in Hobe Sound representing the show's principal art work and the cornerstone of the show's annual advertising collateral. In addition, Mária produced 25 signed and numbered prints of which "1/25 " hangs in the Headmaster's Office of The Pine School.
In the summer of 2011, Mária's work was submitted to the 60th annual all-Florida juried competition at the internationally known Boca Raton Museum of Art. Over 1800 works of art were considered for inclusion in the competition and Mária V's "Il Ponte Nutti" was selected as one of only 101 pieces chosen to represent the best of Florida. The exhibition extended from June 29th through September 11th 2011.
Mária has been working as a fine art and frame restorer since 2010. Today, Maria's paintings using diverse media can be found in private homes in London, Italy, New York, Palm Beach and, of course, Colombia.
Phone: 772-284-6140