Public Art in Martin County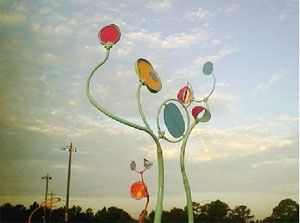 In 1997, Martin County established a public art program that included on-going funding for new artworks and the appointment of the Martin County Public Art Advisory Board (PAAB). The collection of the Public Art program includes sculptures, mobiles, stained glass windows, murals, mosaics, benches, photographs, and quilts. The artworks are situated in libraries, fire stations, community centers, administration buildings, parks, and other county owned properties.
Current the sitting Public Art selection committee is the County's CRA Board, as generally the art is placed in these neighborhoods,who have members that strive to make each artwork relevant to the building and surrounding neighborhood. The Board determines a theme or purpose for the artwork, asks artists to apply, selects an artist and approves the final artwork.
Funding is generated by an allocation of 1% of the construction cost of a new or remodeled county buildings, regional parks greater than 50 acres and parking facilities.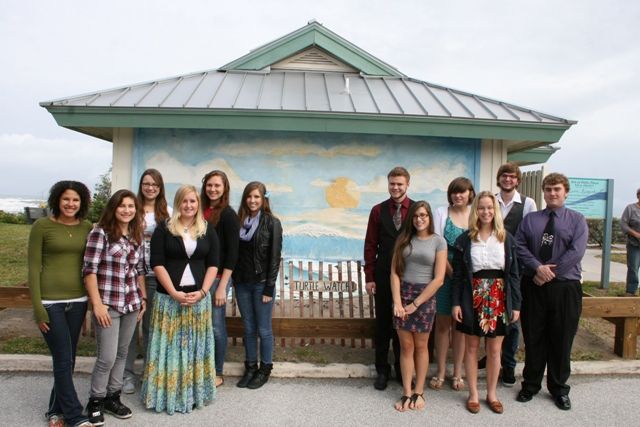 Beach Art!
A mosaic mural for the Public Restroom at Stuart Beach has been completed by Stuart artist Brenda Leigh. Heather Ackers and Taylor Komara, both Jensen Beach High School students, interned with Brenda Leigh and helped her with this project. The Stuart Beach Public Restroom is wrapped with a mosaic, bas relief incorporating Taylor's design and Heather's use of coral in her design. This design is an educational one as well as artistic design to bring attention to our local reef and shoreline. On December 12, 2011, the SEA project was permanently installed for public viewing at Hobe Sound Beach. More than 150 students from Jensen Beach High School worked with artist Mia Lindberg to create a full-scale mosaic sculpture of a loggerhead sea turtle for the project. The project integrates aesthetic elements with educational counterparts. The piece was inspired by the nesting of the endangered species and was constructed in hopes to create more public awareness of the issue. In January of this year, South Fork High School students will be working with landscape architect Meg Whitmer to establish landscaping using native plants at the project site. They will also be working with professional graphic designers on educational signage to be put on permanent display. The SEA Project as an entirety has not only made Martin County a more beautiful place, but it has created awareness and has provided another educational outlet for the public and everyone that has lent a hand in the effort.
Completed Art in Public Places Projects
Hobe Sound Public Library10595 SE Federal Highway, Hobe Sound.
Shell Game sculpture by Charlotte Lees

Robert Morgade Library in Port Salerno5851 SE Community Drive, Stuart. Avian Muse, a mobile by Harry McDaniel (seen at right)

Hobe Sound Civic Center8980 SE Olympus Street, Hobe Sound Mural created by Hobe Sound Fine Arts League

Martin County Jail800 SE Monterey Road, Stuart
Oasis, a tile bench by Glenn Schwaiger

Port Salerno Fire Station4725 SE Dixie Highway, Port Salerno, Antique hose sculpture by Terry Thommes

Hoke Library in Jensen Beach1150 NW Jack Williams Way, Jensen Beach, The Poet, by sculptor Dam de Nogales

Indiantown Public Library15200 SW Adams Avenue, Indiantown, Stained glass by Chris Dutch

New Monrovia Community Center5851 SE Community Drive, Stuart Quilt by artist Stephanie Kimura

County Administration Building/Commission Chambers2401 SE Monterey Rd , Stuart Photography exhibit by Amy Knootz Knippel

Halpatiokee Regional Park7645 SE Lost River Road, Stuart: native animal mosaics by Jessica Gorlin-Liddell located near each refreshment stand, and Wind Games by May & Watkins Design

House of Refuge301 SE Mac Arthur Boulevard, Stuart Artistic gate created by George Goddard

Stuart BeachStuart Beach Mosaic tile mural crated with students from Jensen Beach High School and artist, Brenda Leigh.

Rio Neighborhood Benches

Created by Jensen Beach artist, Mia Lindberg. Located along 707 in Rio and at the circle of 707 and NE Martin Avenue.

Sailfish Splash Murals

Created by: Carey Chen, Julie Silk Beaumont, Lynne Barletta & students from Visionary School of Art, and Nadia Utto. Located at the corner of SE Willoughby Boulevard and SE Ruhnke Street.
Other local public art installations:
Hobe Sound Murals project keeps growing and growing. Led by passionate advocate and artist, Nadia Utto, the Hobe Sound Murals have added so much life and art to the Hobe Sound neighborhood. Follow this link to see the murals online, then go on a tour of them. Or sign up at the Hobe Sound Chamber for a guided tour.

Geoffrey Smith's Waterbirds

Geoffrey Smith Waterbirds greet visitors along the primary entryway, Colorado Avenue, to historic downtown Stuart! And these aren't the only sculpture Geoffrey has around town, his work can also be seen in the iconic Stuart Sailfish Foundation and in other public locations. Private philanthropy and City of Stuart funding combined to make this public art project a reality.
---
Open Calls to Artists
Click on the Calls to Artists page for the latest calls