Opening & Awards Reception - 32nd Annual All Florida Juried Art Show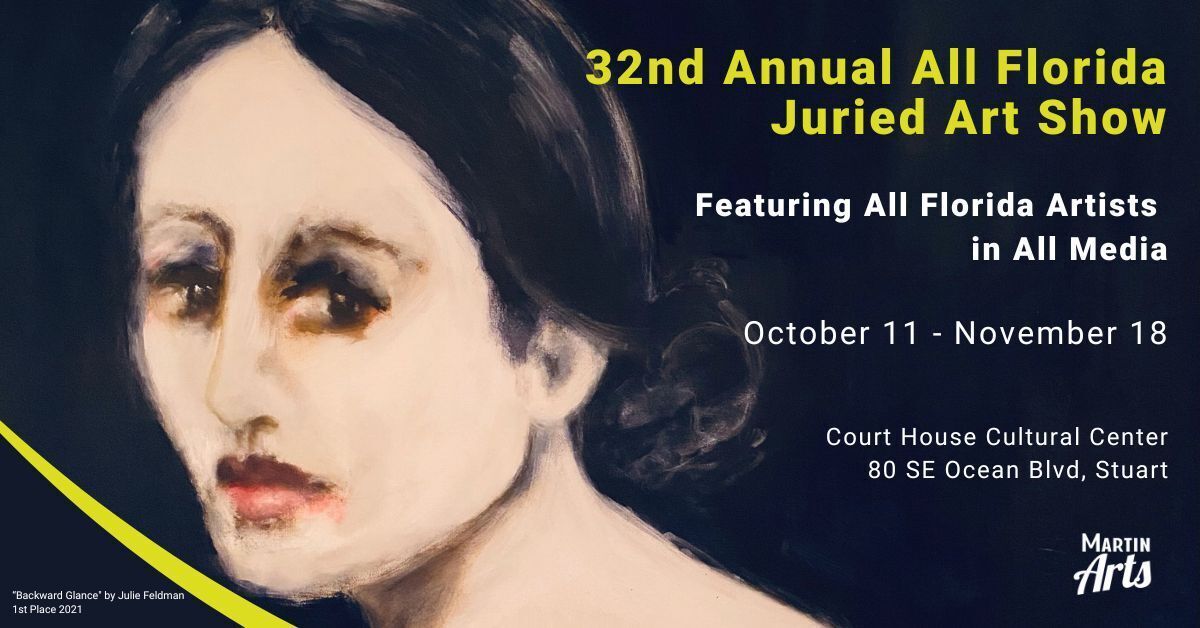 A 32-year legacy exhibition showcasing recent art by all Florida artists in all media. Exhibited works span the mediums of watercolor, ceramics, acrylic, oil, photography, clay, encaustic, wood, metal, glass, and mixed media from 46 artists from Tallahassee to Miami.
Exhibit Dates | October 11 – November 18, 2022
Opening Reception & Awards Announcement | Friday, October 14, 5:30-7PM
Juror's Talk* | Saturday, October 15, 11AM
Artist Panel Discussion (virtual)* | Tuesday, October 25, 6PM
*Registration required. Additional details can be found on MartinArts.org
Dolores Coe, Juror
Dolores Coe (Studio Art) is an artist, educator, and former Professor of Art and Program Director at Ringling College of Art and Design. Her paintings and mixed media works re exhibited regionally and nationally in museums and galleries and included in a number of public, private and corporate collections. She was awarded a resident fellowship at the Rijksakademie in Amsterdam and is a State of Florida Individual Artist Fellowship in Painting. She earned the MFA in Painting and an MA in Counseling.
Featured Artists:
Lisbeth Ascanio, Bob Bechtol, Steven Beverage, Sarah Black-Sadler, BILL Brody, Jonathan Brooks, Judith Copeland, Cheryl Cote, Martin Dunn, Janas Durkee, Miriam Esteve, Janet Folsom, Marine Fonteyne, Ron Garrett, Bonney Goldstein, Jay Hatfield, Jay Hatfield, Latonya Hicks, Etheard Joseph, Claudia Jane Klein, Michael Knapp, Catherine Kramer, Stacey Mandell. Suzanna Mars, John Marshall, Jane McIntyre, Robert Michelmann, Sharon Mroz Hopek, Leslie Neumann, Nina Offutt, Deborah Perlman, Amber Quimby, Amber Quimby, Galal Ramadan, Linda Reymore, Christopher Rivera, Jamie Rodriguez, Danuta Rothschild, Alexandria Salmieri, Rita Shapiro, Joel Shapses, Norman Silva, Rachel Stewart Jeff Whipple, Terry White, Addison Wolff, Kate Wood
Gallery Hours: Tuesday 10AM–6PM | Wednesday–Saturday 10AM–4PM
A donation of $5 in support of our exhibitions and programs is requested.
Visit MartinArts.org for additional details on programs, events, current health & safety guidelines, and accessibility.
Sponsored in part by the Florida Dept. of State, Div. Of Cultural Affairs, Florida Council on Arts & Culture, the National Endowment for the Arts, Martin County Board of County Commissioners, PNC Bank, and private contributions