ArtsFest 2022 - Information for Artists
MartinArts invites artists to apply to be an exhibitor at our 35th annual ArtsFest.  A hometown celebration of local arts and culture, the 2-day event provides the area with exceptional fine art and craft exhibitors, culinary arts, hands-on activities for the family, and a variety of live musical and theatrical performances. From its genesis in 1988, ArtsFest has become one of the Treasure Coast's most beloved and best-attended community events attracting arts patrons, collectors, residents, and visitors during Florida's busy winter season.

ArtsFest Stuart has been chosen annually as a Southeast Tourism Society "Top 20 Event" since 2016!  Artists are our priority at ArtsFest.  A team of volunteers are dedicated to making your experience great! To enhance sales and attendance at ArtsFest, we use our resources and connections throughout the community to create awareness. Through the generous support from local media, our promotions reach residents throughout South Florida and generate excitement about our event.

COVID-19 Policy: Our team values the safety and success of all artists and patrons who attend ArtsFest. We are closely monitoring national and local health and safety guidelines related to Covid-19.  We are currently continuing to plan for the festival and are looking into multiple scenarios to ensure the safety and success of our artists, volunteers, and guests. – these will evolve as local, county, and state guidance continues to evolve.  The 2022 Site Plan is not yet finalized as we revise for current restrictions and guidelines.
Festival Dates & Hours: 
Saturday, February 12, 10AM–5PM
Sunday, February 13, 10AM–5PM
Load In:  Friday, February 11.  Times will be announced with load in information and sent prior to show.
**PLEASE MAKE SURE YOU ARE AVAILABLE ALL DAY FOR LOAD IN**
---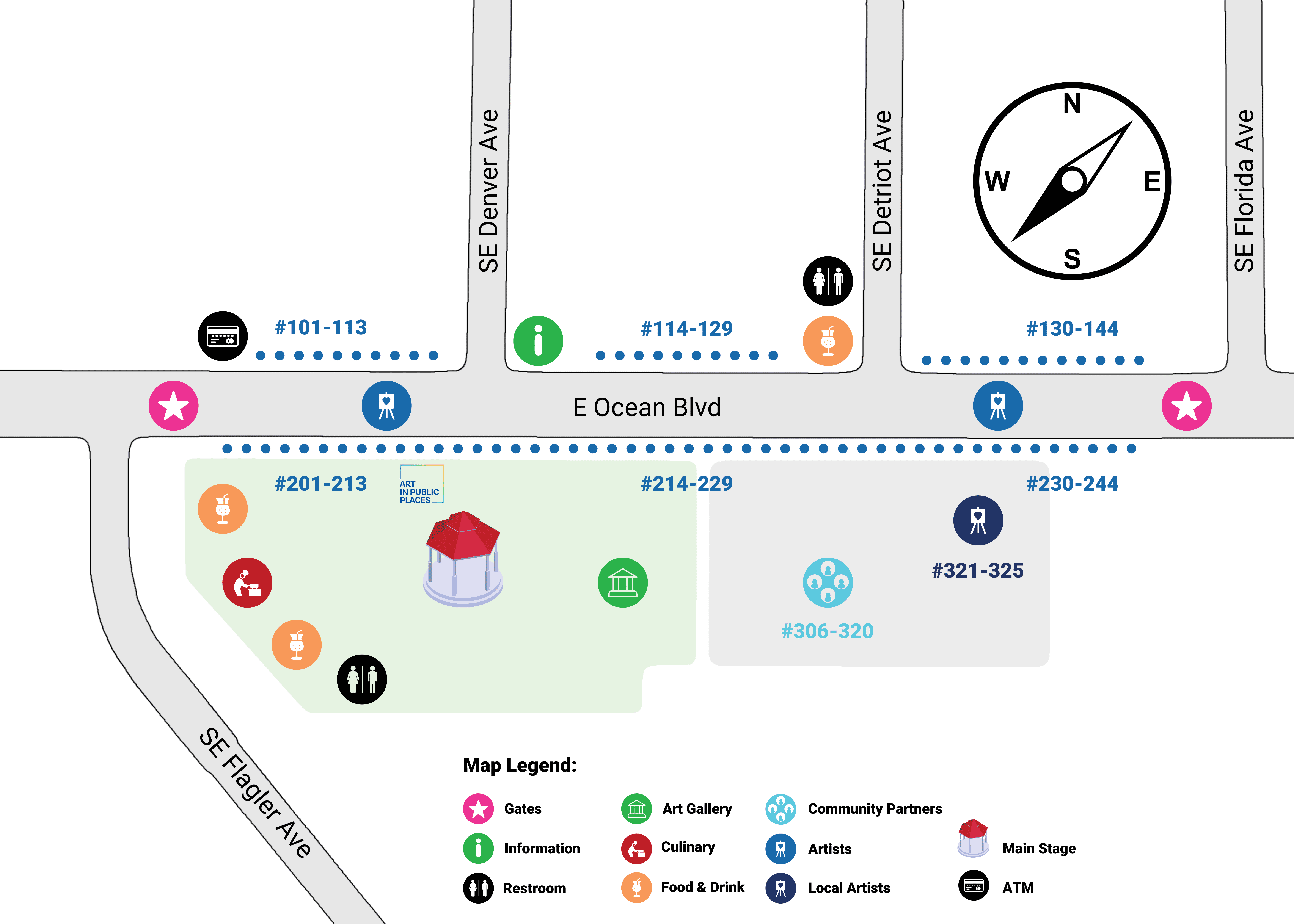 October 5, 2021 Midnight, CST:  Application deadline.  Late applications may be accepted at the discretion of the Show Director
October 6 - 17, 2021:  Jury Review.
October 29, 2021: Notification of Invitation, Wait List, or Not Invited Status will be sent on or before this date.
All artists will receive their status by email through ZAPP. A wait list by category will be established based on jury scores.
December 31, 2021:  All booth fees must be paid in full to exhibit at ArtsFest.  A late fee may be applied after this date.
January 31, 2022: Artist Certificate of Insurance due. 
**All dates are subject to change depending on CDC Guidance.

Booth spaces are on concrete or grass and measure 10'x10' or 10'x20' for double booths, with an approximate 1' buffer on each side. Artists are expected to provide their own canopied white tent and displays, which should be sufficiently sturdy to withstand weather and crowds. Artists should be prepared for inclement weather with rain covers, tie-downs, and weights. Booths must have weights on all four corners and staking will not be allowed. Artists will be held liable for any damages made by their tents and/or displays. Each artist is responsible for his/her own tent and display in case of damage or loss. All storage must be neatly concealed. ArtsFest will attempt to accommodate specific booth requests; however, no booth space request will be guaranteed. Generators are not permitted; however, battery powered lighting and fans are acceptable. Electricity is available in a limited number of booths in the park only for an additional fee and must be arranged before the festival. No on-site requests for electricity can be accommodated.
Artist Set Up:  Staggered artist set up times are scheduled on Friday, February 11, 2022, with consideration for good traffic flow and artist access.  Details and maps will be available in January.

Jury and Booth Fees

Jury Fee* (non-refundable) - $35  

*Jury Fees for 2021 Award Winners may be waived.  Please see notes above before applying.

10x10 Booth Fee - $325

Corner 10x10 Booth Fee - $350

Double 10x20 Booth Fee – $650

Corner and Double booth spaces are available in limited number on first come basis.

Electric $40 – Limited availability.