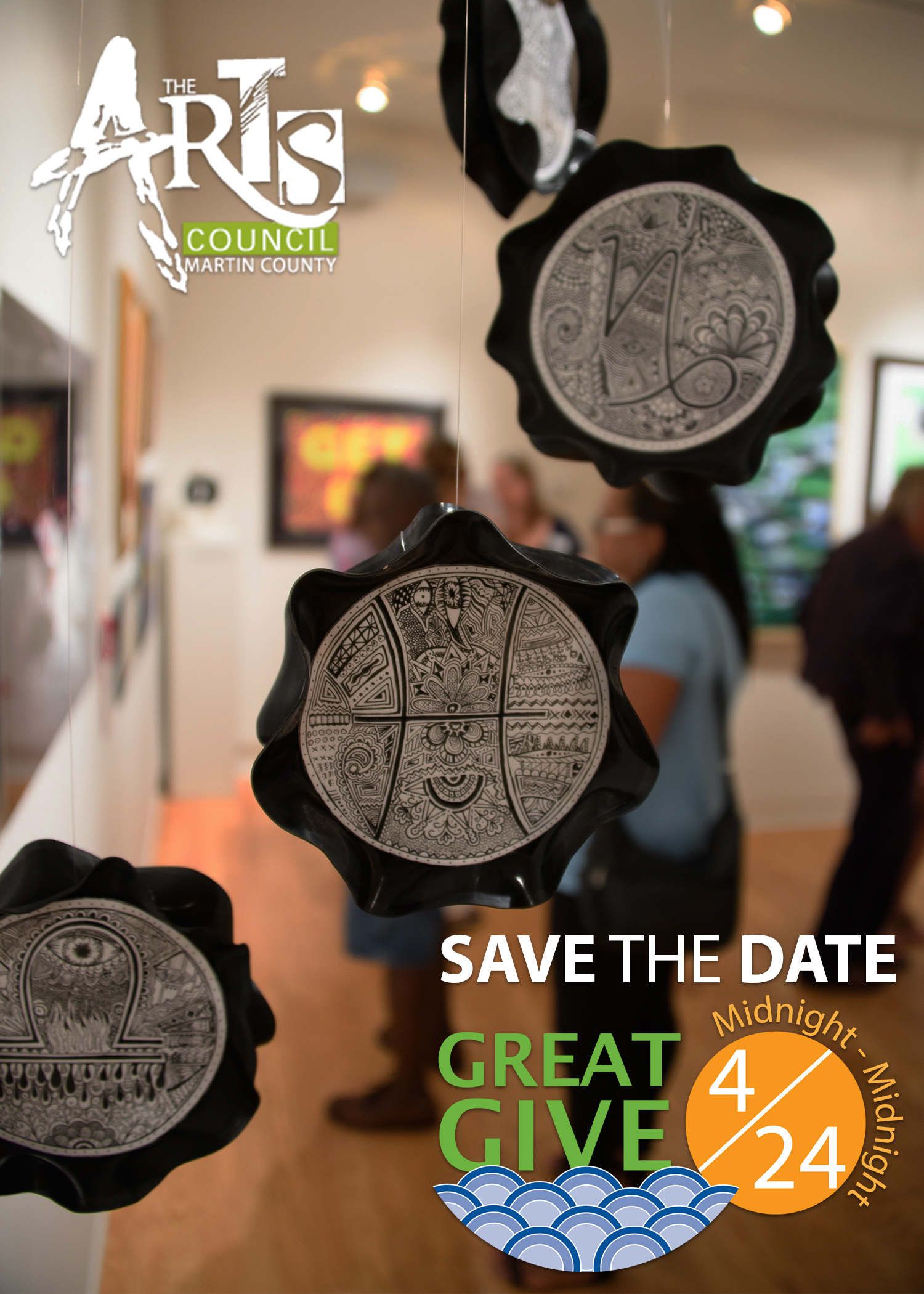 WHAT IS THE GREAT GIVE?
A 24-hour online giving event led by United Way of Palm Beach County, Achieve, Nonprofits First, and United Way of Martin County designed to raise as much money as possible for local nonprofits in a single day! Every local gift will be multiplied with additional dollars from a bonus pool consisting of local dollars raised by United Way of Palm Beach County. The more money a nonprofit raises....the more bonus money they will receive! 
WHY SHOULD I DONATE?
For our Children: Free programs such as Plein Air Arts Day (a day-long hands-on arts experience for high schoolers), spark creativity and expand standard classroom activities for 80 students. That along with the Marvin S. Cone Annual High School Juried Art Show and the new Story Time in the Gallery for pre-K kids rise to the top of our arts education efforts!
For our Community: A destination rich in the arts is attractive to visitors and residents. Events, like ArtsFest, and exhibitions at the Court House Cultural Center, add to the offerings found in our vibrant arts community!
For our Future: Imagine a place where many creative sector organizations could be together, under a shared roof. Great examples can be found throughout our country where nonprofit organizations benefit from shared overhead and administrative costs, allowing them to do more for the community's benefit. The old Stuart High School site is a historic preservation project with an arts-focus.  Our vision includes many artists and organizations, including the Arts Council, the Lyric Theatre, the Treasure Coast Community Singers, the Atlantic Classical Orchestra, Visionary School of Art and Artists for a Cause, to name a few, working together, to bring to life a dream that created the Arts Council of Martin County, nearly 40 years ago!
HOW DO I DONATE?
It's simple! Click HERE and donate! You can also make a credit card donation by phone by calling 1-844-GIVE-DAY (1-844-448-3329).