The Arts Council and its most celebrated donors witnessed the unveiling of the "Jewels of the Arts" recognition wall in November 2012. As executive director Nancy Turrell stated during the presentation:
"A jewel is a piece of mineral which, in cut and polished form, is a beautifully refined example of what the earth has to offer. This concept is in keeping with the role private philanthropy has played in the Arts Council of Martin County's development … our jewels - our donors - have polished us into a great organization serving the arts community and our residents!"
The Jewels of the Arts recognition is presented to donors who have cumulatively given in excess of $10,000 to advance the Council's or the Arts Foundation of Martin County's mission. Located in the central hallway of the historic Court House Cultural Center, this new installation is a stunning tribute to the private individuals and corporations who have support the arts over the past 30 plus years.
Fund Development Committee co-chair, Debi Owens stated:
"Wilmington Trust has served the residents of Martin County for 30 years, and has witnessed over time the rich cultural environment that the Arts Council has created for us and future generations to enjoy. Every donation made to the Arts Council allows them to continue to amaze us by adding to our rich cultural environment. When I joined the Arts Council I discovered that this organization has so much more to offer than I knew, and I am excited to be a part of it!"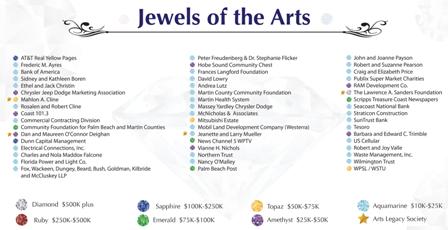 To be recognized as a one of our Jewels of the Arts, a donor must have cumulatively contributed more than $10,000 in support the Arts Council of Martin County or the Arts Foundation for Martin County. Donations may include in kind, event or exhibit sponsorships or memberships.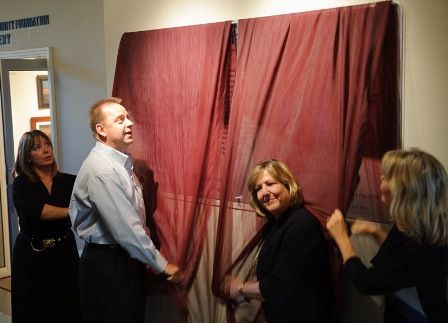 Donors (l-r): Inez Frid (Stuart News), Bridget Baratta (Martin County Community Foundation), Fred Van Vonno (Fox Wackeen law firm), Andrea Lutz, and Phil Wintercorn (Northern Trust)
(Click on photos to enlarge)