Humanity through the Artists Eye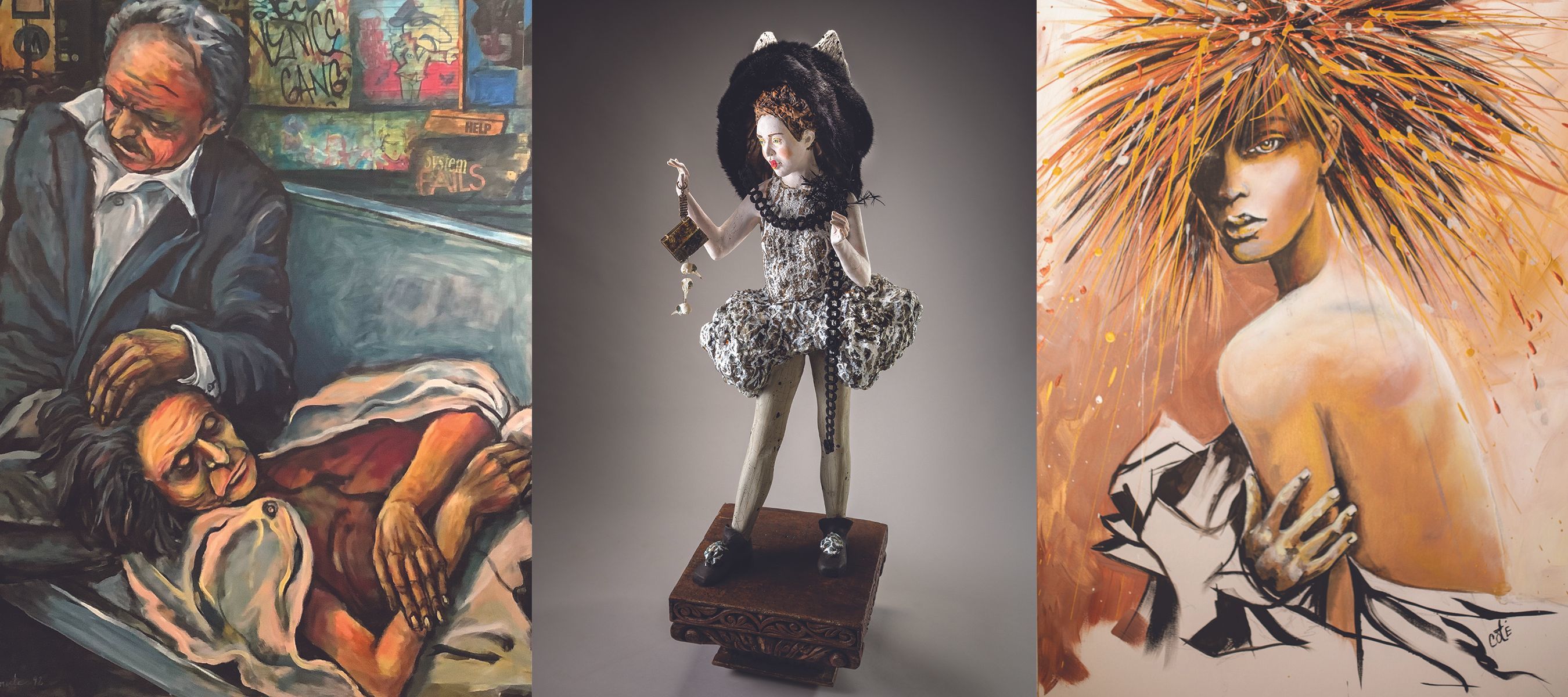 Featuring artists Cheryl Cote, Sal Patalano, Kirsten Stingle
Exhibit dates: March 4 - April 15, 2022
Cheryl Cote′ (koh-tay), a visually impaired artist, vividly conveys life experiences in a desire to inspire people to overcome their own personal challenges.  Cheryl Cote′s work has evolved from a very fine detail artist to a broader spectrum of color and light. Many of her works are very colorful and bold on a large scale. She often starts with a black and white to grayish background and uses spot color to give meaning or punch to certain aspects of the story that she paints. Due to Cheryl's limited sight it's a challenge to paint, she has developed a unique style to relay her image on the canvas, bold, great light and shadow and color. Through her eyes we see the soul in each figure she paints.
 
Kirsten Stingle's work is both bold and expressive. Her amazing images in mix media combine unique textures, fabric, clay, and construction to give emotion to her figures. She places her figures on or in unique situations that tell a story. The detail to her facial expressions and clothing dictates a time and place. Her color palette, often dominated by sepia tones, show a somber but very emotional character. The expressions she gives her figures are often wondrous and so detailed you feel as if they will spring to life.  According to the artist, "My work strives to cut through this isolation by highlighting common threads of the human experience through storytelling. My goal is to create a dialogue with the viewer, encouraging self-revelation and promoting a greater understanding of one another. I wish to transport the viewer into a fantastical world of the imagination in which ideas, fears, desires, and other points of view can be explored and better understood."
 
An internationally respected and award-winning artist, Danuta Rothschild, can capture the scope of human experience from the ominous to the magically affirming.  Her artwork has been shown in France, Poland Bosnia and the United States.  In her earlier she shows the humanity and poverty in the world and in America. Bold color and texture show the story and struggles of her characters as they move through life. When she moved to California, her work shifts visually with a lighter look at space and time a reflection perhaps on her new environment. Placing figures into a greater space and nature she gives a sense of dreamlike or vast perspective of the human experience. Nature, vast and endless and we are but a small part of the story she tells.