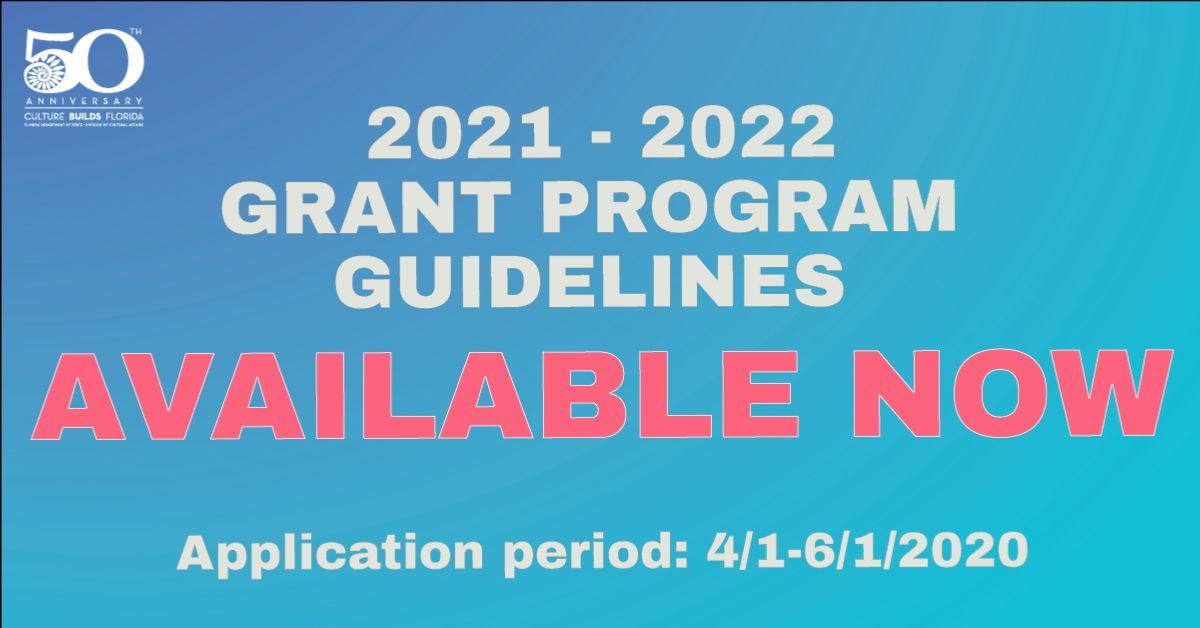 General Program Support
Specific Cultural Project
Cultural Facilities (2021-2023)
Cultural Endowment
2021-2022
GRANT APPLICATION GUIDELINES ARE AVAILABLE NOW
(GPS) funding is designed to support the general program activities of an organization.
The Division offers three types of General Program Support:
Discipline-Based program support for cultural and artistic programming

Local Arts Agency program support for designated Local Arts Agencies

State Service Organization program support for cultural organizations that meet the definition of State Service Organization.
(SCP) grants fund a cultural project, program, exhibition, or series taking place within the grant period (July 1 through June 30). The grant activities must support the mission of the organization and further the state's cultural objectives. 
The Division offers four project types.
Arts In Education projects promote arts and culture in education

Discipline-Based cultural or artistic projects

Underserved Cultural Community Development projects assist with the development of underserved cultural organizations

Artist Performances on Tour provides funding to Florida-based performing artists for touring activities to underserved communities; touring activities include both a performance and an educational component.

Individual Artist project grants provide up to $25,000 for artist-driven projects that have public benefit and enhance the State of Florida through the creation or presentation of artistic work. Individual Artist projects can be in all artistic disciplines, genres, and styles.
Funding is designed to coordinate and guide the State of Florida's support and funding of renovation, construction, or acquisition of cultural facilities. The program is intended for bricks and mortar construction or renovation or for acquisition (not any combination of the three).

The Division offers three types of Cultural Facilities grants:
Acquisition: the purchase of an existing facility

Renovation: the renovation of an existing facility 

Construction: the construction of a facility
Is an endowment matching funds program that will provide operating resources to participating cultural organizations. 
The Cultural Endowment Program is comprised of two components:
Cultural Sponsoring Organization (CSO) designation, and

Receipt of a $240,000 State Matching Share (SMS).
An organization may be designated as a CSO without submitting an application for an SMS. However, CSO designation is an eligibility criterion for the receipt of a SMS. Applications for designation as a Cultural Sponsoring Organization may be submitted at any time. See the Cultural Endowment Guidelines for more information.
To promote representative leadership and equity in the arts, 11 to 13 cultural workers and arts administrators located in seven states in the southern region will be selected for this partnership program between South Arts and our colleague Regional Arts Organization WESTAF (Western States Arts Federation). Building on the success of WESTAF's ELC program which has been attracting, training, networking and promoting a new generation of diverse arts leaders since 2010, the South Arts program will serve to advance Southern vitality through the arts through leadership development.
South Arts seeks to provide significant support to projects developed by partners that harness the power of "Arts & …". South Arts recognizes that as our communities continue to change, the arts play an incomparable role in addressing many of our communal and individual challenges and strengths. Further, the value of partnership, and working together across sectors, brings new opportunity, increased effectiveness, and greater depth to our collective work. Grants of up to $15,000 are available for partnerships or projects taking place between July 1, 2020 and December 31, 2021.
Literary Arts Touring grants support presenting organizations for engagements by guest Southern writers (fiction, creative nonfiction, and poetry) from outside the presenter's state. These touring funds support publicly accessible readings and educational activities that provide opportunities for people to participate in the arts. Grants of up to $2,500 are available for projects taking place between July 1, 2020 and June 30, 2021.
Arts Council staff is available to assist and advise on grant applications.