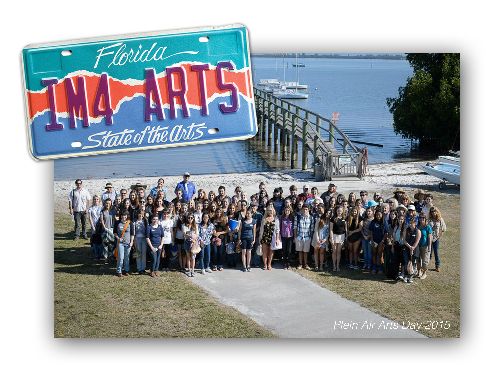 You can help support the arts in Martin County by purchasing a Florida "State of the Arts" license plate! Introduced by the Florida State Legislature in 1994, this specialty license plate raises funds for arts and arts education programming directly benefit and impact our community.
How much does it cost?
You can purchase a Florida "State of the Arts" license plate at any time for $32.  The $32 will be a recurring annual fee for as long as you have the specialty plate registered.  (If you purchase this plate at the time of your license plate renewal, the $32 will be in addition to your regular renewal costs).
Where does the money go?
More than half of the money from each license plate ($20 of $32) is tax deductable and goes directly to Martin County.  Those funds are used to support various arts and arts education programs such as Plein Air Arts Day.
Where can I get one?
To purchase or renew your "State of the Arts" license plate, visit your local Florida Department of Highway Safety and Motor Vehicles service center in Martin County.
For more information, visit the FLHSMV online.