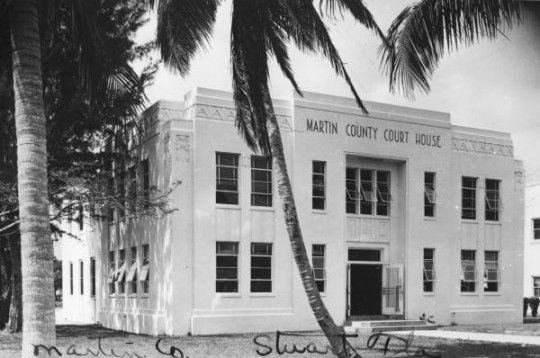 Respecting the Past:
The long history of the Court House Cultural Center begins in 1908, as the first schoolhouse in Stuart, built on land originally donated by Mr. R.R. Frazier. When a new schoolhouse was completed in 1923, the old building became the Martin County Courthouse.
In 1936, the County applied to the Works Progress Administration for aid. The approved project addition, designed by architect L. Phillip Clarke, is a rare example of post-depression Art Deco. The addition features symbols and inscriptions attesting to the vigorous and idealistic era of Roosevelt's W.P.A., as are the cast friezes and cornices adhered to the top of the building.
Scheduled to be demolished in 1989, it was saved by concerned citizens, who lobbied for grant money from the Florida State Department of Historic Preservation and matched by funds from the City of Stuart.
The restoration saved the original awning windows, judge's vault, marble staircase and terrazzo floor inlaid with the commemorative emblem inside the front door. Other significant artifacts include two benches used by visitors during court proceedings and one of the chairs from the jurors' box. To this day, the building houses many photographs depicting the history of the building.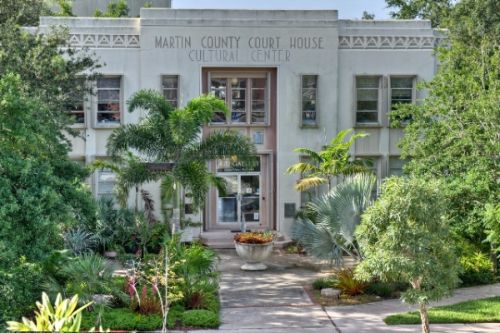 Planning for the Future:
Saving a historic building is important for the community, but making that historical building special has been the goal of MartinArts. The old Martin County Courthouse has been restored to its original 1937 architectural design and houses two fine art galleries.
---
Saving the Court House Cultural Center
Meet a few of the people involved in making it happen and setting the stage for it to become a beacon in a growing arts community.
Panelists: Mary Shaw, retired executive director; Joan Jefferson, former Mayor, City of Stuart; and Tom Prestopnik, retired SFHS Art Teacher and arts advocate.
Filmed by MCTV as part of Martin County Historic Preservation Month | May 8, 2022