USO Dance Celebrating the 80th Anniversary of the Flagler Center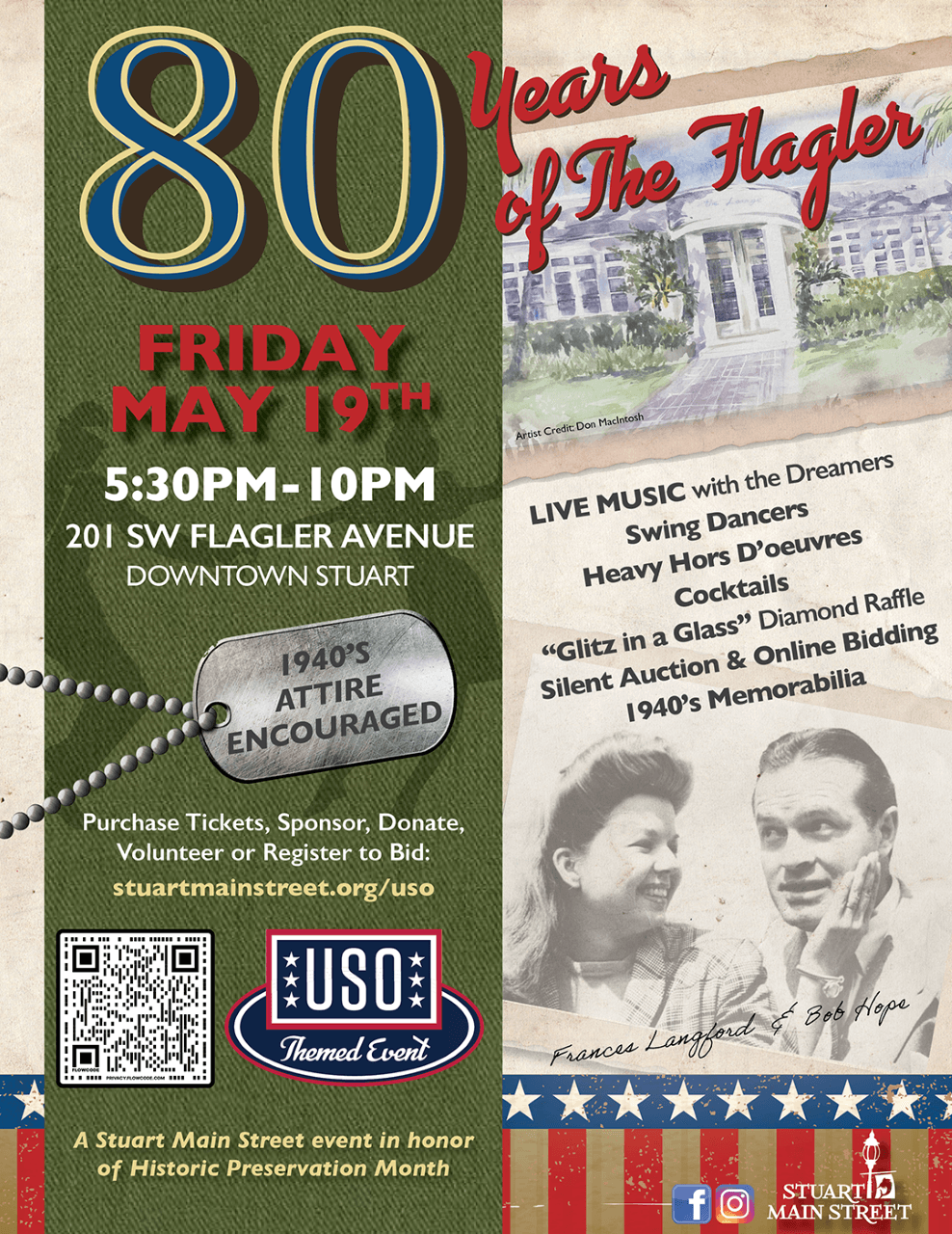 Stuart Main Street will be celebrating the 80th Anniversary of the Flagler Center and the patriotic tradition of the USO with a Stars & Stripes-themed dance and silent auction. Complete with a 16-piece big band, swing dancing, 40's themed libations and hospitality, WWII displays of memorabilia, militaria, vehicles, and re-enactors portraying service men and women of the period, the evening promises to be a festive soiree celebrating not only the rich history of the Flagler Center but also the County's important role on our nation's history and all those who served during WWII.
"The grace and origin of this beautiful building have been an inspiration to me and the Stuart Main Street Board of Directors, and we wanted to share that with the community in a way that was fun and fitting to its history, during Historic Preservation Month," says Candace Callahan, Executive Director, Stuart Main Street.
"Not just a military function or the traditional fundraiser, we want to celebrate that unforgettable era of our shared history. This dance is to honor that time when our community and country worked together for a common goal, for the greater good," says Joe Flanagan, President of Stuart Main Street. "We hope to bring back that wonderful sense of camaraderie and support on May 19, this time for Stuart Main Street and to recognize Historic Preservation Month."
Guests are encouraged to get into the spirit of the theme, by dressing up in 40's era fashion. Whether they raid their attic for grandmother's favorite swing dress, or grandfather's WWII uniform, or shop for the perfect pair of dance shoes in downtown Stuart the event will be awash in the period.
Tickets are $150.00 and include live entertainment by The Dreamers and the 16th Armored Division Reenactment group, generous and delicious hors d'oeuvres, a signature cocktail, a silent auction, and once-in-a-era photo opportunities. Sponsorship and underwriting opportunities are available. (Silent auction will be live and online one week prior to the event, and is open to everyone, no ticket is required to bid on any auction item.)