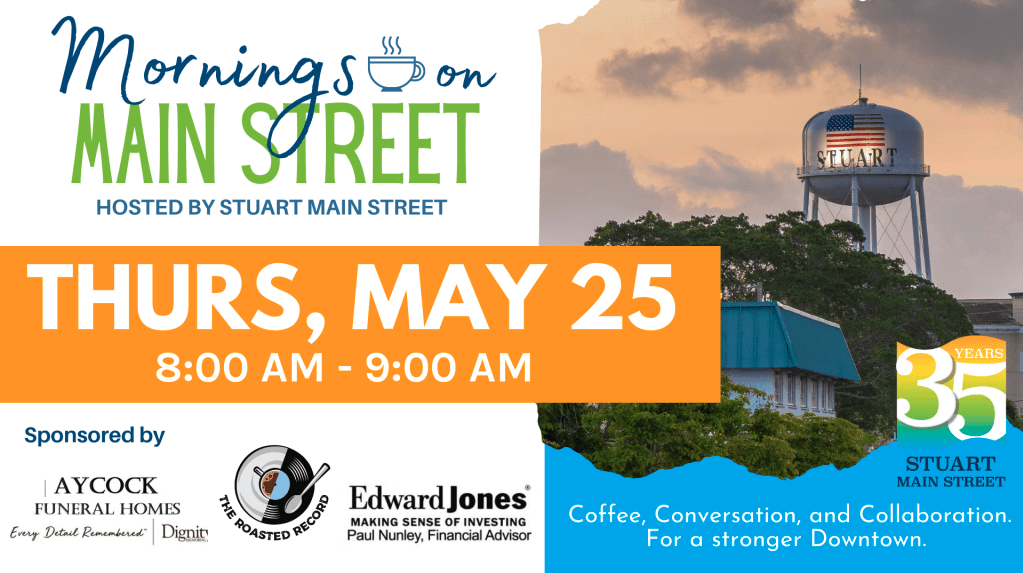 Join us as we help close Historic Preservation Month for our bi-monthly coffee networking event, 'Mornings on Mainstreet' and get involved with all things "Downtown". These events are open to the public and everyone is invited!
This month's event is sponsored by Paul Nunley, Edward Jones, and Aycock Funeral Homes, hosted by The Stuart Heritage Museum. Enjoy a tasty breakfast, and locally roasted coffee from The Roasted Record.
* Learn more about Stuart Main Street's mission.
* Share conversations with City of Stuart Mayor and Commissioners, City Staff & Leadership.
* Learn about upcoming events, City updates and how you can get involved.
* Light Breakfast
* Raffles! (Bring them if you got them!)
Registration is REQUIRED! These events are FREE to Main Street Members as part of their paid member benefits.
Entry: Free for Paying Members
$5 for Future Members
$10 at Door