Marvin S. Cone 35th Annual High School Juried Art Show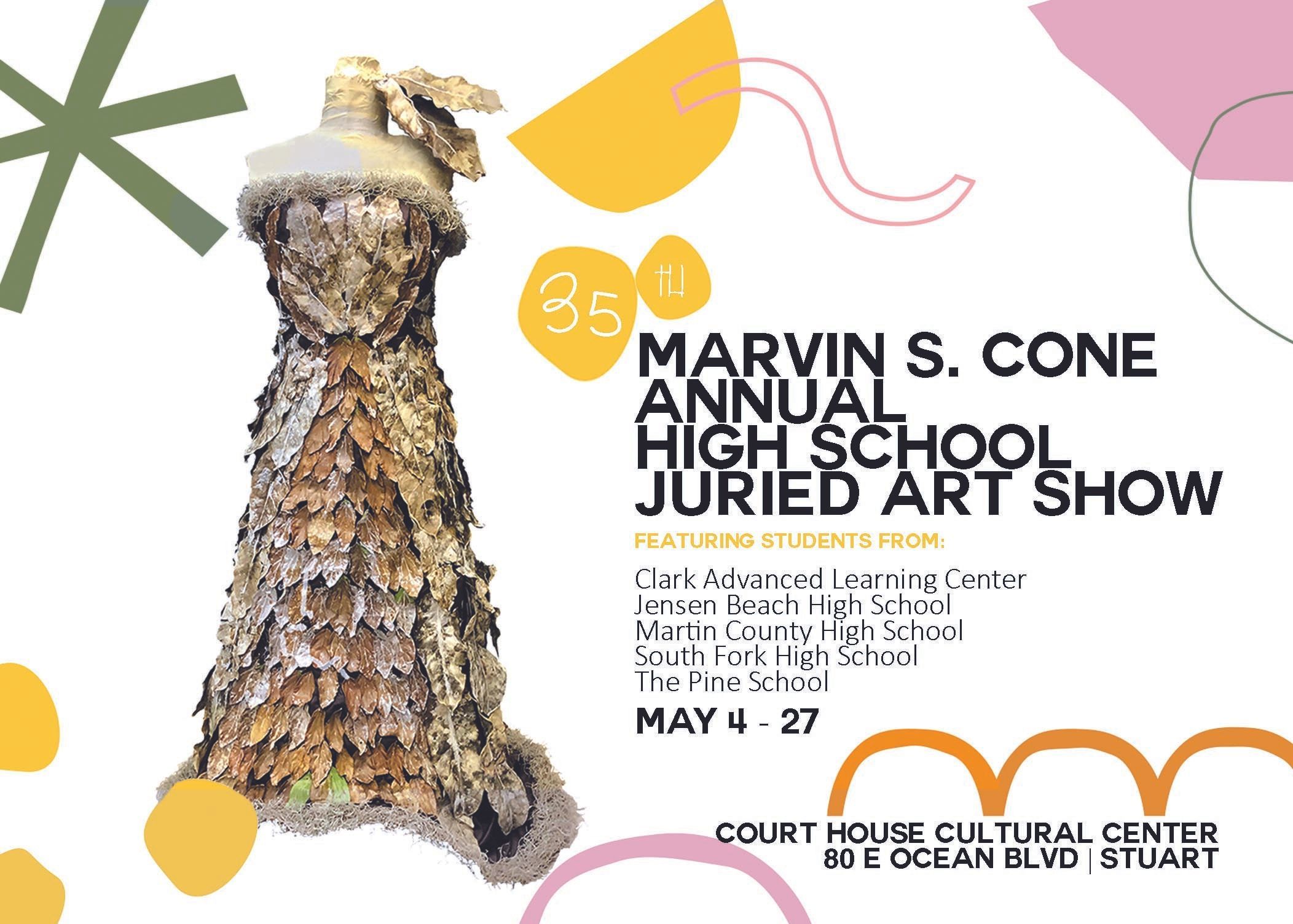 Each year the Arts Council presents the Marvin S. Cone Annual High School Juried Art Show to recognize the artistic talents of Martin County high school students. The art teachers at each school select each piece of artwork for entry in the exhibit. It is a highly competitive process; the categories for cash awards are photography, painting, sculpture, mixed media/assemblage, printmaking, and drawing. The awards reception is held at the Court House Cultural Center Gallery. Additionally, each high school principal and the school superintendent select pieces to purchase that become a part of a permanent collection at their respective high schools and the superintendent's office.
For more information about the Arts In Education programs, please feel free to contact us.
ABOUT MARVIN S. CONE:
Marvin S. Cone, a local writer, poet, art collector, entrepreneur, and educator was inspired by the creativity of art students in Martin County. He sought to encourage young people to pursue even greater achievements by transforming the annual high school art exhibit into an event that truly recognized student's artistic accomplishments. Established in 1987, the Marvin S. Cone Annual High School Juried Art Show honors its founder and his unrelenting enthusiasm for young people, for the arts, and for his timeless efforts in making this event what it is today.
Marvin S Cone 35th Annual High School Juried Art Show (2021)
JUDGES AWARDS
Honorable Mention Awards (across category):
1. "Sweet Summer" by Sophie Araque-Liu
2. "A Moment in Time" by Arianna Fairchild
3. "The Forgotten Children" by Mackenzi King
4. "Masked Eyes" by Celena Budd
5. "The Escape" by Hailey Smith
6. "Change" by Amanda Ferrier
7. "Healthy Choices" by Nina Lembo
8. "Art Class" by Brianna Gibson
9. "Dinosaurs" by Hollyn Lewis
10. "House of Refuge" by Tristan Hill
For Drawing:
3rd Place: "Spirals" by Eliana Cotton
2nd Place: "My Cat, Tilly" by Mika Fowler
1st Place: "Hands Holding Red Strings" by Danielle Bullard
For Mixed Media:
3rd Place: "Comet & Luna" by Faith Hill
2nd Place: "All-Nighter" by Gigi Copeland
1st Place: "Sweet Memories" by Shirly Zhu
For Painting:
3rd Place: "The Precipice of Insanity" by Tabitha Wiedrick
2nd Place: "The True Reality" by Alexadra Trejo
1st Place: "A Study in Feminine Beauty" by Tatum Bean
For Sculpture:
3rd Place: "Modern Dream Home" by Chelsea Monet
2nd Place: "Hands of the Sun" by Cassidy Bean
1st Place: "The Three Little Pigs" by Paulina Mateo Antonio
For Photography/Digital Prints:
3rd Place: "Golden Prairie" by Keegan Kinsley
2nd Place: "Out of Time" by Josef Alexander Kaufmann
1st Place: "Side Eye" by Natalie Belisle
For Best of Show: "Marine Imitation" by Cassidy Bean
PURCHASE AWARDS
Superintendent, Martin County School District:
"The Forgotten Children" by Mackenzi King
Jensen Beach High School:
"Out of Time" by Josef Alexander Kaufmann
"My Cat, Tilly" by Mika Fowler
Martin County High School:
"Real-Life Heroes" by Sophie Araque-Liu
"Side Eye" by Natalie Belisle
South Fork High School:
"Enchanting Chanterelle" by Samantha Conner
"Jennie" by Katherine Gierhart
"Dinosaurs" by Hollyn Lewis
"The Three Little Pigs" by Paulina Mateo Antonio
Clark Advanced Learning Center:
"Serenity" by Renee Rivas
The Pine School:
"Aerial View" by Rachel Goldman
Supervisor of Elections:
"It's My Future" by Gigi Copeland
The Historical Society of Martin County:
"House of Refuge" by Tristan Hill
Children's Services Council of Martin County:
"Forelsket" by Ronna Callaghan
Martin County Commissioner Harold Jenkins:
"Golden Prairie" by Keegan Kinsley
Education Foundation of Martin County
"A Shining Scientist" by Shirley Zhu
Zweben Law Group
"Escape from Reality" by Diana Saucedo